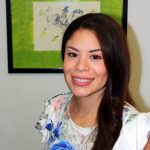 Alumni Member
Mariajosé Aguilera
What program did you graduate from and when did you graduate?
I graduated in 2015 from the Master of Public Health program (social and behavioural health sciences stream), with an emphasis in global health.
What are you doing professionally? Can you share a little about any particular global health projects?
I'm working as a research assistant on several projects. I recently finished working on the Oxford University Press Textbook of Global Health (4th edition) by University of Toronto professor Anne-Emanuelle Birn, and co-authors Yogan Pillay and Timothy Holtz. One project I'm currently involved in is with panel members of the University of Oslo's Independent Panel on Global Governance for Health exploring the impact of extractive industries (e.g., mining, oil drilling) on global health.
Why did you choose to study global health at U of T?
I knew that I wanted to pursue graduate studies in public health, but I also had an interest in global health having taken some classes on the topic throughout my undergrad. The option of the global health emphasis with the DLSPH program was one of the deciding factors to ultimately choosing that program.
How has your Dalla Lana School of Public Health global health learning experience enhanced your career?
The coursework and extracurricular activities and events that I participated in gave me the opportunity to explore and deepen my understanding on a range of issues. Additionally, meeting and learning from faculty, professionals, and other students with global health experience has been very important to building my network and opening doors in my professional life.
What would you say to a prospective student who is considering a global health specialization at the Dalla Lana School of Public Health?
I would say that whether or not you are interested in a globally-oriented career, it can be valuable to have an education in global health because so many health issues have causes or implications that transcend geopolitical boundaries. In my experience, DLSPH offered an interesting diversity of global health courses taught by knowledgeable and experienced faculty. There was also always the opportunity to participate in global health-related events that were happening at the school and in Toronto, such as roundtable discussions and conferences. I would tell prospective students that if they take advantage of these resources, they can come out of the program with a rich exposure to some of the prominent conversations and controversies occurring in this dynamic field.