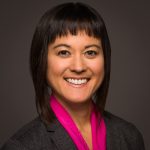 Alumni Member
Ashley Aimone
What program did you graduate from and when did you graduate?
Epidemiology, June 2016
What are you doing professionally? Can you share a little about any particular global health projects?
Post-doctoral fellowship doing planetary health research in Western Kenya (under Dr. Paula Braitstein). Research projects include quantitative, qualitative and narrative investigations into the impact of climate change on human health – e.g. related to water security and HIV risk.
Why did you choose to study global health at U of T?
Opportunity to strengthen and expand local network of collaborators, and connect with the academic sector of Toronto's public health community.
How has your Dalla Lana School of Public Health global health learning experience enhanced your career?
Interaction with peers across disciplines with diverse backgrounds, and research foci helped to expand my repertoire of knowledge pathways and conceptual lenses. Involvement in teaching and education (particularly course design and implementation) has also helped to enhance my knowledge synthesis skills and guide my career trajectory.
What would you say to a prospective student who is considering a global health specialization at the Dalla Lana School of Public Health?
It is a growing community with great collaboration potential within a globally well-recognized and connected School, institution, and city.