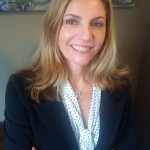 Alumni Member
Katia de Pinho Campos
When did you graduate from the Dalla Lana School of Public Health?
I graduated from the Masters of Public Health (Health Promotion) in 2005. I also obtained my doctoral degree (PhD) this past June of 2015.
 What additional degrees or training do you have?
I have a Bachelor in Social Communications, a specialization in Social Marketing, and a Masters' Degree in Business Administration.
How did you become interested in your field?
When I was doing my BA in Social Communications, my first project targeted women's health through the development of a social marketing campaign aimed at improving access to healthcare services. This was my first exposure to public health issues, and the one that sparked my interest in pursuing a career in public health.
After graduating from this program, I was invited to join a well-recognized NGO in the field of HIV/AIDS prevention and treatment in Brazil. I created the social marketing and communications unit and played a key role in advocacy and awareness building of HIV/AIDS, and in promoting more active engagement of various stakeholders, including the private sector in the fight of HIV/AIDS. Without knowing, I was involved in the field of Health Promotion.
 Tell us about any interesting projects you are working on.
This year, I worked with the Denmark's Development Cooperation Agency – DANIDA – in Tanzania, where I conducted a risk assessment of Public-Private Partnership (PPP) initiatives in health. The purpose of this assignment was to develop a context-based framework for monitoring risks in the implementation of PPPs in Tanzania.
This work involved significant collaboration with international donors and partners, including the Ministry of Health and Social Welfare in Tanzania, the Swiss, Irish, German and American development agencies, and local health organizations. We were able to identify critical elements that could negatively impact the development and implementation of PPP initiatives in Tanzania. This assignment ends this December, and DANIDA is in the process of implementing the proposed framework to assess PPP risks, and measure progress made by the PPP initiatives supported by them.
In January, 2016 I will assume a new position at the World Health Organization, office for the Western Pacific Region headquartered in Manila. In this role, I will support countries in advocacy, policy & planning, community interventions and evaluations across major preventable NCDs and health promotion interventions. I will also provide evidence-based guidance for the prevention and control of NCDs and health promotion at all levels of the health care system.
What do you enjoy most about your current career position?
I enjoy working in public health internationally. Much of my work entails providing strategic advice and technical assistance on research, policy and partnerships to governments and health organizations. The multicultural aspects of the field make the work dynamic, challenging at times, but rewarding.
In such environment, I have learned that there is no "one-size-fits-all" type of solution. In many low- and middle-income countries, for example, the challenges faced by public health professionals cannot be addressed by simply following reforms/initiatives implemented in high-income countries. This means, to be successful, it is essential to take into account the local context; be culturally respectful, flexible and creative; work in collaboration and develop partnerships when appropriate.
Last but not least, the beauty of working with people from different backgrounds and cultures is that it brings a rich exchange of knowledge and experience. These are the aspects that I appreciate most from my work.
In what ways has your experience at the School had an impact on your career and who you are today?
The School was a source of inspiration to pursue my career internationally in the area of public health policy and strategy. The School's emphasis on social justice, equity and health expanded my ability to exercise my critical thinking. Its strong research-based orientation provided me with the skills to identify and appraise research evidence to inform public health policies and strategies.
The School also encouraged me to seek for innovative approaches to address complex health problems beyond the traditional ones historically used in public health. As result, I studied public-private partnerships (PPPs) in public health — one of the multi-sectorial forms of collaboration — and examined critical factors in the development of partnerships between the government and the agri-food industry.
This comprehensive study yielded the first theory-driven, empirically-based framework that explains factors that influence the process of building PPPs.
Today, I strongly believe that our approach to public health needs a revitalization to one that includes a clear and strong interorganizational collaboration for the development and implementation of policies and programs.
How did your experiences at the School help you to overcome obstacles you've faced as a public health professional?
The research knowledge and skills I gained during my studies have strengthened my ability to provide well-founded technical advice and decision-making at work. The PhD, for example, has provided me with a sound scientific knowledge and discipline to enjoy challenges and "trust the process" (as my PhD supervisor used to say) without having clarity of what the solution might turn out to be.
The experience at the School has also reinforced my ability to be proactive and to 'start and finish' large projects, such as my PhD, with minimal supervision. I think successful public health professionals require attributes such as self-determination, critical thinking and well-founded arguments. I strongly believe that my graduate studies were instrumental in strengthening these attributes.
What advice would you give to younger alumni or current students who aspire to follow a similar career path?
Be proactive, open-minded and find a field of work that ignites your enthusiasm, then "trust the process." In my case, it is working collaboratively in policies and strategies for improving global public health.
What would you say to a prospective student who is considering the School?
This is the best school of public health in Canada! It offers a multidisciplinary perspective, fosters critical thinking and provides students with the "tools" to explore a wide range of opportunities at the local, provincial, national or international levels.