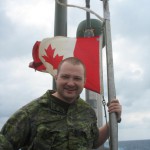 Alumni Member
Gary Johnston
When did you graduate from the Dalla Lana School of Public Health?
I completed a Master of Public Health in Occupational and Environmental Health in 2007.
What additional degrees or training do you have?
I have a Bachelor of Science in Biology from the University of Victoria. Additionally through the military, I have a certificate in Aerospace Physiology from the US Naval Operational Medical institute and have undergone extensive instruction in hyperbaric and hypobaric chamber operation, Survival, Evasion, Resistance & Escape (SERE) training, as well as Chemical, Biological, Radiological and Nuclear (CBRN) defence.
How did you become interested in your field?
In 1999, a series of four converted fishing trawlers were stopped while entering Canadian waters; aboard were approximately 600 illegal immigrants being smuggled into Canada. At the time I was working in the Army Reserves as an Infantryman, and one of the other members of my regiment worked for the company that was awarded the contract to remediate the vessels. I was curious about what this whole "remediation-thing" entailed, so I asked if I could visit the job site and watch the cleanup efforts. What I saw were inhumane living conditions, and I had difficultly believing that these vessels were actually able to make it across the Pacific Ocean and arrive with their human cargo still alive.
As it turned out, I wasn't a very good watcher. The next thing I knew I was wearing Tyvek, a respirator, and being lowered into the forward hold of the boat called, "The Rust Bucket." I ended up working with the remediation crew in clearing the boat hold and removing the waste for disposal. From there my visit turned into two weeks of assisting with the cleanup, which in turn became a life-long interest in public health that encouraged me apply to the Regular Force as a Bioscience Officer.
What do you enjoy most about your current career position?
I've been given a lot of opportunities to apply my trade while working in unique, and in some cases, extremely challenging environments. For example, I've carried out heat stress studies while on exercise in Jamaica, I've conducted air quality studies aboard a submarine in the Atlantic, and I've collected water and soil samples while deployed to the Panjwai District in Afghanistan. I've even had the opportunity to work with live chemical agents such as sulphur mustard, sarin, and VX during detection and decontamination exercises.
In what ways has your experience at the School had an impact on your career and who you are today?
The School gave me the tools necessary to function in the field of Occupational Hygiene. Before entering the program, I had no real concept on how large the field of OH actually was, and how specialized one can become in the various areas if interest. One could easy build a career strictly around air sampling, or health and safety, or ergonomics, or water quality. It really depends on what interests and drives you. While I'm officially considered a Bioscience Officer within the Canadian Armed Forces, I really consider myself to be an Occupational Hygienist based on the training I've received.
How did your experiences at the School help you to overcome obstacles you've faced as a public health professional?
One of the challenges I've faced as a public health professional is being a public health professional in the military. The public health career path is often misunderstood, which doesn't help in a way of life that is also often misunderstood. By the nature of what Canada expects of us, soldiers, sailors and airmen and women are in an inherently risky occupation. Sometimes, public health is perceived as a barrier to mission success. How can you have safety in a war zone? How can guidelines that were made in Canada be applied in Afghanistan?
At the school I learned that public health isn't a barrier. Mission success comes with management of risks, and what happens in the military isn't necessarily different than what happens in the civilian world. We all have the common goal of making tasks as safe as possible by controlling and eliminating uncertainties. I worry about managing those risks, and ensure my chain of command has the information they need to keep people out of harm's way whenever possible. This is no different than what is expected in any civilian workplace.
Describe any significant relationships with fellow students or faculty. How did these relationships help you?
I came into the program after being outside of a university academic settling for almost ten years, so I was probably seen by my fellow students as the "old man" in the group. I was also on the military's Post Graduate Training Program, so my full time salaried job was to be a student and buy the refreshments. That certainly helped to close any generation gap. I recall them introducing me to this new thing called Facebook.
I don't think you ever really leave the University of Toronto. Through the program, you establish strong bonds with the faculty and peers. You know that if you ever have a problem in the future, you always have that network of expertise that you can call upon for assistance. Even though I graduated almost eight years ago, I still run into my classmates and professors at conferences and chat with them on Facebook.
I even returned for a few years to teach a lecture on Biological Hazards for Professor James Scott while I still lived in the Toronto area.
What advice would you give to younger alumni or current students who aspire to follow a similar career path?
The best advice I can give is to always be true to yourself and have integrity in the decisions you make. It's easy to make decisions when the outcome has people liking you; however we're not there to be liked or to win a popularity contest. We're there to maintain the confined space entry program. We're there to make sure the fire suppression system is working properly. We're there to make sure people have the right safety tools to do their job. But most importantly, we're there to make sure people make it home to their friends and family.
Don't ever put yourself in the situation where your decisions are made for the wrong reasons. Never compromise on your integrity.
Do you have a favorite or funny story about your time here?
I have a few. My first is that I grew a beard. Now that may not sound funny, but you have to consider that I joined the military at 17 and was never allowed to grow one due to the army's requirement to be clean-shaven. Suddenly, I found myself for an extended period of time out of uniform, so at the age of 32 I grew my first beard – and it was glorious. It was possibly also an illegal beard because I was still in the army, so hopefully the Surgeon General never reads this.
The second was surrounding a course called, "Occupational Health Control Methodology" taught by Professor Andrea Sass-Kortsak. Who would have thought there was an entire mathematical science exclusively dedicated to the efficient construction and operation of ventilation ducts? Have you ever looked up in a restaurant and verbally said, "Hey, that's some nice exposed ductwork."? I have. Thanks to that course, you too can have the people sitting around your table think you're weird!
What would you say to a prospective student who is considering the School?
I'd say that it's a big step, and you may be thinking, "is this what I want to do for the rest of my life?" Or, "will I be able to find work?" The Dalla Lana School of Public sets you up for success. Between the focus on background theory, professional and practical skills and the work practicum in industry, I was ready when I graduated to work in the field. In fact, within six months of graduation I was leading my first Deployable Health Hazard Assessment Team (DHHAT) to Afghanistan.
The Occupational Hygiene work I've since been involved with is incredibly rewarding. Public health may not always sound glamorous, but it's a critical component of the workplace that needs good people. Sometimes the days are long, and sometimes you have to fight extra-hard to convince someone of the "right way" over the "easy way." But in the end, it's a job that matter s and makes a difference in people's lives. If you like learning about industry processes, talking to people about their jobs and working to keep them safe, then this is certainly a school you should consider.