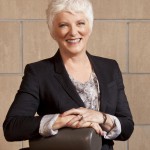 Alumni Member
Hazel Ruth Lynn
When did you graduate from the Dalla Lana School of Public Health?
Graduation with MHSc Community Medicine and Epidemiology, June 2003
What additional degrees or training do you have?
M.D., FCFP
How did you become interested in your field?
I worked in rural general medical and surgical practice in Nigeria from 1978 to 1985. It was clear from the challenges we saw daily that public health initiatives in sanitation, vaccination, maternal and child care, control of infectious diseases such as TB and leprosy, as well as community development and education were crucial if we wanted to make a lasting improvement to health.
What do you enjoy most about your current career position?
I enjoy the variety of topics and activities and working with a dedicated, highly trained and competent staff. I enjoy working with our community partners in municipalities, schools, health care institutions, and many others so that together we can make improvements in opportunities for health in our rural area.
In what ways has your experience at the School had an impact on your career and who you are today?
I chose to attend U of T in a Master's program that offered a wide variety of course topics. I was already hired by the Board of Health for Grey and Bruce counties as the Acting Medical Officer of Health (MOH) and needed the MHSc to become the official MOH.
I needed to gain a better understanding of biostatistics and epidemiology to be able to assess population level health and critically appraise medical literature. I needed a better understanding of the databases available and methods used to assess community health. Program planning and evaluation was another skill I required. Working in a rural area with the largest nuclear power plant in North America, I needed to update my understanding of nuclear physics and radiological health. In a rural area, sanitation such as wells, septic systems, sewage lagoons, and so on were also important to learn about.
There are two First Nations communities in Grey and Bruce and I was able to take a reading course on aboriginal health which has been very useful to me. I was able to take a course regarding addictions and a public health oriented dietary course. My practicum research project was done though the Behavioural Science Cardiac Unit at Toronto General Hospital and sponsored by the Heart and Stroke Foundation; it was very useful and that connection has continued to give us research opportunities.
How did your experiences at the School help you to overcome obstacles you've faced as a public health professional?
The amazing variety of expertise I have been able to draw upon from the MHSc has been very helpful in the many challenges that I have faced in this job over the past 12 years. I have also had the connections to get expert advice if I needed it.
Describe any significant relationships with fellow students or faculty. How did these relationships help you?
I continue to have contact with fellow MHSc grads from my class who are working in various capacities in Toronto, Ottawa and UK. I'm in touch with professors and lecturers from the school and we've collaborated on projects, received advice and shared work with them.
What advice would you give to younger alumni or current students who aspire to follow a similar career path?
I enjoyed the challenges of practicing clinical medicine, but having a career direction change after 20 years was a wonderful way to renew my interest in health and respond to new academic demands. I have really enjoyed the past 12 years looking at a preventative, population approach. I would recommend to young physicians to look at the preventative challenges and develop the skills to be more effective as an 'upstream' health-oriented doctor.
Do you have a favorite or funny story about your time here?
In the Biostatistics II course we did project work in small groups. Since I was a mature student with significantly better support than the rest of my group who were all poor grad students, we met in my condo to do the projects as there was allot more room and electric plugs. The condo became known as "stats palace" and we had some fine events there including Thursday night viewings of Survivor. We did not vote anyone out of our group although the stats professor was often mentioned as a candidate for banishment.
What would you say to a prospective student who is considering the School?
Define why you are doing the degree and what you want to accomplish and choose elective courses that will give you broad variety of exposures.