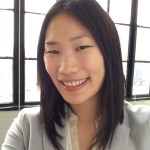 Alumni Member
Andrea Yip
When did you graduate from the Dalla Lana School of Public Health?
I graduated with my Master of Public Health, Health Promotion, in 2009.
How did you become interested in your field?
I enjoy working in creative and multi-disciplinary environments where I can help design care experiences that better meet people's health needs and desires. Working along the intersection of design and health brings together the best of my skills and passion for health promotion, meaningful design and good business. This work allows me to tackle real world health challenges and build upon my experiences as a practitioner in the public and private healthcare sectors.
What do you enjoy most about your current career position?
I am humbled to work with incredibly bright and inspiring people in the heart of New York City. Working at the J&J Global Strategic Design Office gives me the opportunity to shape the design of holistic healthcare solutions from a human centered perspective. This work involves designing research programs that focus on understanding people and their environments, all while honouring the voice and needs of those who we design with and for. It excites me to work on products and services that reach millions of people worldwide, drive business value, and promote health. To me, this type of work demonstrates the value and role design can play in creating better healthcare experiences.
In what ways has your experience at the School had an impact on your career and who you are today?
The program helped me better articulate and reaffirm the principles that shape my practice as a public health professional – health equity, systems thinking, social justice and social determinants, to name a few. These principles provide me with a value base through which I can navigate and address complex health problems.
How did your experiences at the School help you to overcome obstacles you've faced as a public health professional?
The School has a strong reputation, worldwide. The MPH title translates well across borders and has provided me with public health credentials to build my career outside of Canada. My training has enabled me to think critically about population health issues and bring a unique perspective that is rooted in Canadian health promotion theory and practice.
Describe any significant relationships with fellow students or faculty. How did these relationships help you?
During my second year of the program I was paired with my first year buddy, Monika Goodluck. As I got to know her, I learned just how strong, bright and wonderful Monika was as a person. To my delight, I found that she ended up being a mentor and buddy to me more than I could have ever hoped for. To this day we keep in touch and I am grateful to not only call her my 'HP buddy,' but also a good friend.
What advice would you give to younger alumni or current students who aspire to follow a similar career path?
Never hesitate to ask. I have been humbled by the number of times I have reached out to people to ask questions, ask for advice, or ask for help, and have gotten a response in return. By simply asking, I have been able to meet people who I admire or have never met before. This has enabled me to grow my professional circle and, at the same time, taught me how I can offer value to others in return for their time and energy.
Do you have a favorite or funny story about your time here?
While I was working at DLSPH, I completed a number of design projects on the side, mostly for fun and out of my own interest. What I loved most about these projects is that they stimulated conversations with my peers and mentors around visualizing public health. For me, this was a safe way to experiment with design. A couple of my favourite projects included reimagining the Ottawa Charter for Health Promotion and creating a timeline of the history of health promotion in Canada.
What would you say to a prospective student who is considering the School?
DLSPH has an impressive community of students, staff, faculty and alumni. Connect with this network, seek out supportive mentors, and take full advantage of the fact that you are situated in the heart of downtown Toronto, a city ripe with opportunities in healthcare and design