Location

Online Event

Series/Type

Dates

November 29, 2021 from 12:00pm to 1:00pm
Special note: This seminar will be hosted on Zoom. Please register to receive the link and password two hours before the seminar. Please note that space is limited.
This seminar is co-hosted with the Canadian Immunization Research Network (CIRN) Trainee Seminar Series.
Speakers: Dr. Arlene King and Dr. Srinivas Murthy
Title: Global equity in vaccination programs and Canada's role
Presenter Bios:
Dr. Arlene King – Dr. King is an internationally recognized expert in public health, immunization, communicable disease prevention and control, pandemic and emergency preparedness. She is an Adjunct Professor at the Dalla Lana School of Public Health at the University of Toronto and consultant in public health and preventive medicine. Since January 2021, she has co-chaired the Independent Allocation of Vaccines Group, which was established to validate vaccine allocation proposals in support of the fair and equitable allocation of COVID-19 vaccines procured or distributed by the COVAX Partnership.
During the COVID-19 pandemic, she has served as the Executive Medical Director, COVID-19 Immunization Strategy, Public Health Agency of Canada (PHAC) and as a Medical Health Officer, Fraser Regional Health Authority, British Columbia (BC) in support of the regional pandemic emergency response.
She is a member of the World Health Organization (WHO) Global Certification Commission (GCC) for Polio Eradication, Chair of GCC Containment Working Group, member of the WHO African Region Certification Commission for Polio Eradication, Chair of the WHO Americas Regional Certification Commission for the Polio Endgame and member of the Technical Advisory Group of Experts on Immunization for the Americas. She has served as an Advisor to the WHO for many years, including as a member of the International Health Regulation Review Committee following the H1N1 influenza pandemic (2009), and in support of pandemic preparedness.
Dr. King led Ontario's public health sector as the Chief Medical Officer of Health (CMOH) from 2009 to 2014. She also served as the provincial/territorial co-chair of the Pan-Canadian Public Health Network Council and a member of the Council of Chief Medical Officers of Health of Canada. She was the inaugural Director General of the Centre for Immunization and Respiratory Infectious Diseases at the PHAC, served as the technical lead during the response to SARS, and held several other positions with Health Canada/PHAC, including the position of Director General, Pandemic Preparedness.
Dr. Srinivas Murthy – Dr. Murthy is a Clinical Associate Professor in the Department of Pediatrics, in the Faculty of Medicine at the University of British Columbia. His research focuses on pediatric infections, in particular on reducing the morbidity and mortality burden of pediatric infections through optimizing their management in a variety of settings. Additionally, his research focuses on the ability of various settings and healthcare systems to cost-effectively manage critically ill children, especially those with infection.
About the Centre for Vaccine Preventable Diseases, DLSPH:
With leadership housed at the University of Toronto's Dalla Lana School of Public Health, we are developing an interdisciplinary group of academic researchers, educators and public health advocates. Our vision is to catalyze cutting-edge research and education that maximizes the health benefits of immunization for everyone.
We aim to contribute locally and globally to healthy communities through excellence in interdisciplinary vaccine-preventable disease and immunization research and education.
Questions? Email us at cvpd.dlsph@utoronto.ca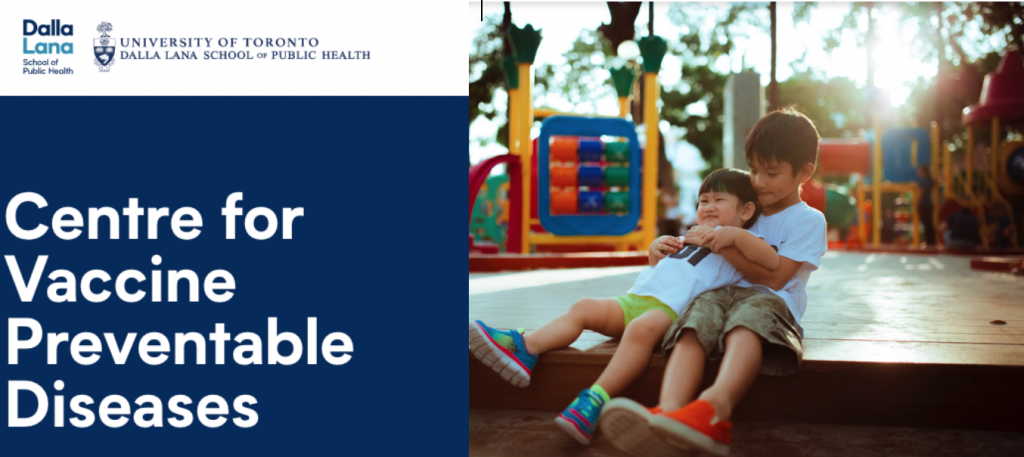 Links