Location

Zoom

Series/Type

Dates

January 24, 2022 from 6:00pm to 7:30pm
Black, Indigenous, and 2SLGBTQIA+ people have been calling attention to police brutality and systemic racism in carceral systems for decades. The murder of George Floyd at the hands of Minneapolis Police Department in 2020 has brought many to reconsider the role and function of police in society. What's more, the intersecting crises and carceral responses to the opioid overdose, COVID-19 pandemic, and affordable housing have culminated in a reckoning with the systems that disproportionately harm individuals in marginalized and underserved communities. Conversations around defunding the police and alternative forms of community safety have become louder, both on and off-campus.
This speaker series aims to be a set of initial community building events that will bring students, staff, and faculty together to facilitate these discussions around policing on campus and trauma-informed alternatives. In doing so, we hope to create a network of people and groups who are interested in working towards a police-free U of T campus and provide space not only for students to learn from expert interdisciplinary faculty at U of T but also engage in critical dialogue with these faculty and other students. The goal is for this speaker series to be the first of many steps and actions to organize and mobilize students to develop a safer, police-free, campus community.
Session 1 – A Brief History of Policing
Date: Monday, January 24, 2022
Time: 6-7:30PM EDT
Speaker: Dr. Rinaldo Walcott, Director of Women and Gender Studies Institute, Associate Professor at the Ontario Institute for Studies in Education, University of Toronto
Session 2
Date: Thursday, February 17, 2022
Time: 6-7:30PM EDT
Speaker: Dr. Syrus Marcus Ware
Session 3 – Organizing for Police-Free Schools
Date: Monday, March 21, 2022
Time: 6-7:30PM EDT
Speaker: Dr. Beverly Bain, Assistant Professor, Department of Historical Studies, University of Toronto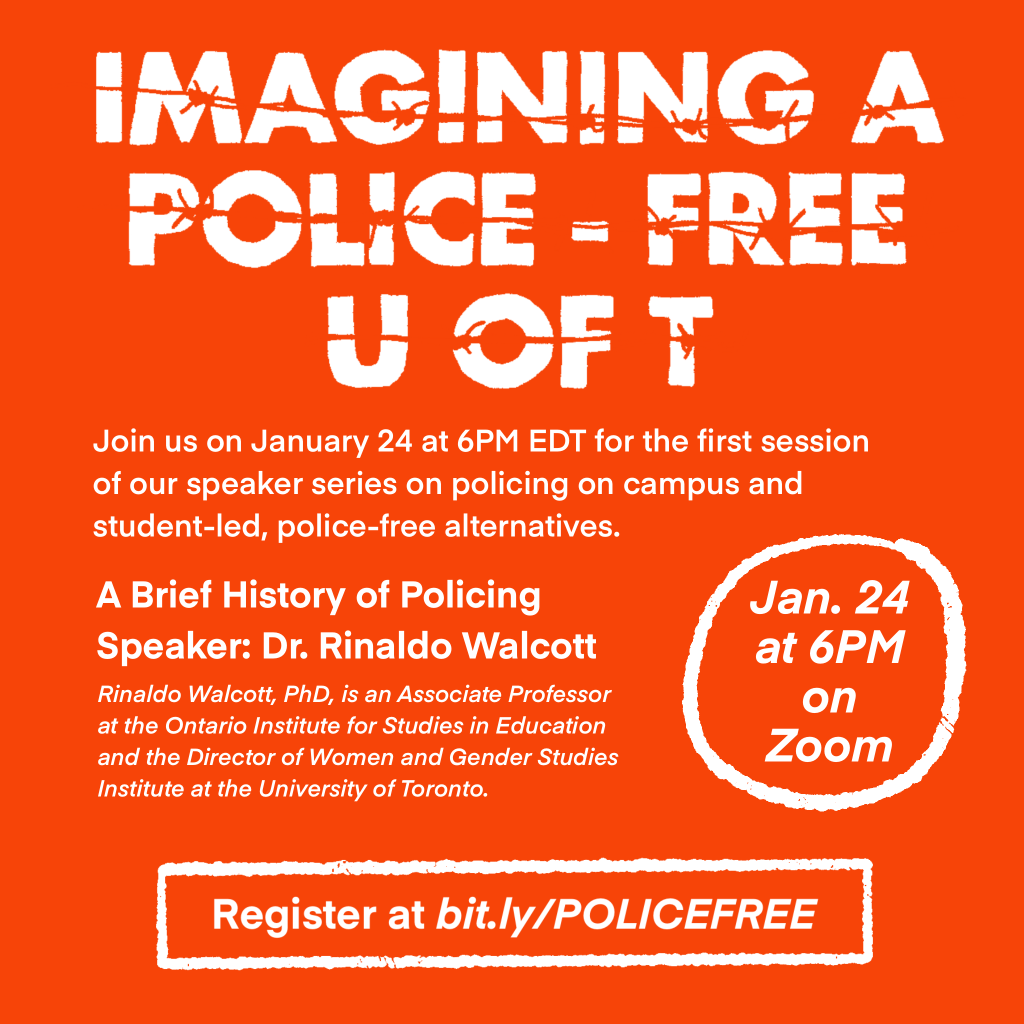 Links