Location

Virtual/Toronto

Series/Type

Dates

November 18, 2022 from 10:00am to 9:00pm
The Racialized Maternal Health Conference is a forum where professionals, students, experts, researchers, policymakers, and other stakeholders will come together to pursue efforts to improve racialized maternal-newborn health and practices in Canada by promoting best practices, cultural competency and advocacy for racialized maternal health issues, research and policies.
The Racialized Maternal Health Conference is a meeting place for a wide range of stakeholders, organizations, academics, researchers, communities, students and policymakers. In addition to, anyone who is interested in understanding the impact, burden, and knowledge practices for racialized maternal health care in Canada, should be attending this conference.
This year's theme is Innovation in the BIPOC Birth Space
Date: November 18, 2022
Time: 10 am – 4 pm EST
Location: Virtual
RMHC 2022 will include virtual speaker sessions and an in-person event for all participants.
We invite your departmental staff and students to:
• Learn and engage with relevant topics during plenary sessions
• Survey recent academic research with oral and poster presentations
• Collaborate and grow through workshops and networking events
• End the day at our evening social event with a Black Maternal health Art
Exhibit, vendors and more!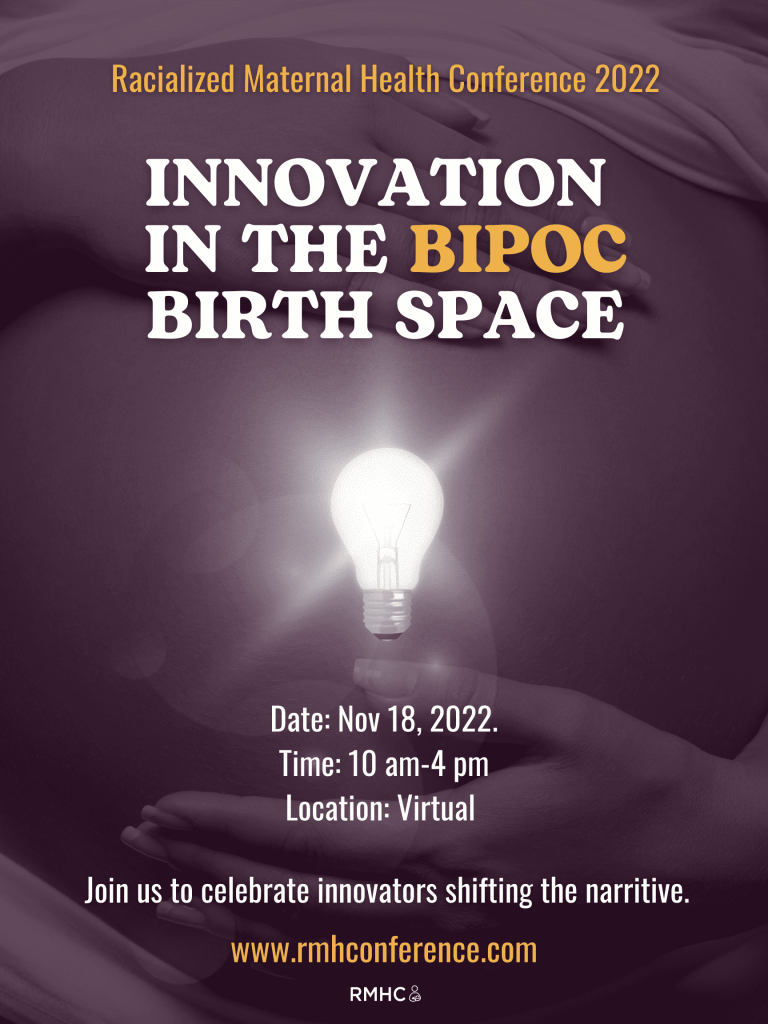 Links