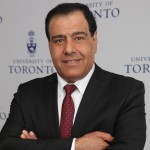 Faculty Member
Izzeldin Abuelaish MD, MPH
Email Address(es)

Office Phone

416-978-3521

Office Address

Dalla Lana School of Public Health 155 College Street, Room 578 Toronto, ON M5T 3M7

Website(s)

Division(s)/Institute(s)

Position

Professor

SGS Status

Associate Member

Appointment Status

Contract
Research Interests
Global Public Health
Women's Health
Health, Conflict and Peace
Hatred as a contagious disease and public heath threat
Education & Training History
Dr. Izzeldin Abuelaish, MD, MPH, is a Palestinian medical doctor who was born and raised in Jabalia Refugee Camp in the Gaza Strip. He is a passionate and eloquent proponent of peace between Palestinians and Israelis and has dedicated his life to using health as a vehicle for peace. He has succeeded despite all odds through a great determination of spirit, a strong faith, and a stalwart belief in hope and family.
He received his elementary, preparatory and secondary education in the refugee camp schools, followed by a scholarship to study medicine in Cairo, Egypt and a diploma in Obstetrics and Gynecology from the Institute of Obstetrics and Gynecology at the University of London, UK. From 1997-2002, Dr. Abuelaish completed his residency in at the Soroka University hospital in Beer Sheva, Israel followed by a subspecialty in Fetal medicine in Italy and Belgium, and a Master's in Public Health (Health Policy and Management) from Harvard University. He is the first Palestinian doctor to receive an appointment in Medicine at an Israeli hospital.
Through his work he has had the opportunity to experience the impacts of conflict in countries like Palestine, Egypt, Israel, Uganda, Yemen, Afghanistan, and Saudi Arabia. Working as both an insider and outsider to conflict led him to consider doctors as peace-makers by the moral doctrine of their profession. His work as both a healthcare practitioner and a peace advocate mobilizes health as a tool for peace. Dr. Abuelaish has been an important figure in Israeli-Palestinian relations for years, working in Israeli hospitals, and treating Israeli and Palestinian patients with the full belief that health is an engine for the journey to peace.
Dr. Abuelaish has overcome many personal hardships, including poverty, violence, and the horrific tragedy of his three daughters' and niece's deaths in the 2009 Gaza War. He continues to live up to the description bestowed upon him by an Israeli colleague, as a "magical, secret bridge between Israelis and Palestinians". He is now one of the most outspoken, prominent and beloved researchers, educators and public speakers on peace and development in the Middle East. Despite his personal losses his doctrine is that hate is not a response to war. Rather, open communication, understanding, hope and compassion are the tools to bridge the divide between Israeli and Palestinian interests.
Dr. Abuelaish's impact on peace-seeking communities is exceptional. He has been invited to give speeches at the Canadian House of Commons, the American Congress, the Chilean Senate and Parliament, the European Parliament at Place Du Luxembourg in Brussels, Belgium, the State Department, and Forum 2000 in Prague. He has been interviewed by major media outlets and personalities in dozens of countries including interviews with Christiane Amanpour, Anderson Cooper, Sir David Frost, and Zeinab Badawi on various media sources including BBC News Hard Talk, Fox News Channel (FOX), Al Arabiya News, London's The Telegraph, ABC, TVO, The Globe and Mail, The Economist, The New York Times, Vanity Fair, the Boston Globe, People Magazine, and CNN. In addition, he has given speeches all over the world in academic institutions, universities, and organizations in Canada, USA, Europe, Africa, and Austral-Asia.
He has received a number of awards and nominations in recognition of his promotion of peace through health, and has been given seven honorary degrees from the University of Manitoba, Victoria University, Sault College, McMaster University, University of Saskatchewan, Queen's University, and The University of Western Ontario. In addition to sharing the stage with several Nobel Peace Laureates such as Senator Romeo Dallaire, Dr. James Orbinski, Shirin Ebadi (Iran), and Leymah Gbowee (Liberia), he has been nominated three years consecutively for the Nobel Peace Prize, and support for his candidacy keeps growing exponentially every year. He is the recipient of the Stavros Niarchos Prize for Survivorship, and was also nominated for the Sakharov Prize for Freedom of Thought. Since 2010 Dr. Abuelaish has also been named one of the 500 Most Influential Muslims by the Royal Islamic Strategic Studies Centre in Amman, Jordan for three consecutive years, and was the first ever recipient of the Mahatma Gandhi Peace Prize.
Many influential figures within the diplomatic community have spoken very highly of Dr. Abuelaish's work. In nominating Dr. Abuelaish for the Nobel Peace Prize the Belgian Parliament named him the "Martin Luther King of the Middle East", and in his nomination for the Sakharov Prize, Dr. David Naylor, then President of the University of Toronto, called Dr. Abuelaish a remarkable ambassador for peace and an exemplar of forgiveness and reconciliation. The President of the European Parliament, Hans-Gert Pottering spoke of him in his speech in Strasbourg, Germany at the opening of the exhibition "From Hebron to Gaza", and stated to the audience:
…the strongest indication of hope I witnessed this afternoon when Veronique de Keyser brought to my office one of the most convincing personalities I met during my life…Dr. Izzeldin Abuelaish…
He had the strength as a believer, as a Muslim, to continue the peace process. This is one of the strongest messages to us politicians to continue our efforts… After my term as President of the
European Parliament, I want to use my time to continue to defend the two states solution, a safe state of Israel and a safe state of Palestine… And I finish with our message of hope, Dr. Abuelaish,
which is a message to us politicians, to us in Europe.
Even President Barak Obama referred to him as an example of strength and reconciliation in his address on May 19, 2011 when he discussed the possibility of peace within the Middle East.
Dr. Abuelaish's book, I Shall Not Hate: A Gaza Doctor's Journey, an autobiography inspired by the loss of his three daughters Bessan, Mayar, and Aya and his niece Noor to Israeli shelling on January 16, 2009, has achieved critical acclaim. Published in 2010, it has become an international best-seller and has been translated into 23 languages. The book has become a testament to his commitment to forgiveness as the solution to conflict, and the catalyst towards peace.
Other Affiliations
Mentor, Institute for Scholars and Practitioners in Residence (INSPIRE), The Institute for Global Leadership, Tufts University, Boston, Massachusetts
Visiting Professor, Free State University, South Africa
Panel member, The International Women and Health Fellowship, Women's College Hospital, Toronto, Ontario
Member, Global Health Division Education Committee, Dalla Lana School of Public Health, University of Toronto
President and member of the Board of Directors, Daughters for Life Foundation, Toronto, Ontario
Global Health Scholar, Silverman Center, Mount Sinai Hospital, Toronto, Ontario
Adjunct Scientist, Women's College Research Institute, Toronto, Ontario
Member of the Editorial Board, "Journal of Women's Health, Issues, and Care"
Reviewer, "International Journal of Health Planning and Management"
Primary Teaching Responsibilities
HAD5768H International Perspectives in Health Services Management
Honours & Awards
The 500 most powerful Arabs in the World
Honarary Doctorate (Human Letters), Victoria University
RBC Top 25 Canadian Immigrant Award
David Plant Award for Excellence in International Dispute Resolution
Los Angeles Certificate of Recognition
The Queen Elizabeth II Diamond Jubilee Medal
Walter Reuther Social Justice Award.
Middle Eastern Monitor Magazine (MEMO) Book Prize
Foundation P&V Citizenship Award 2012
University of Western Ontario Honorary Doctorate (Laws)
Arab Canadian Business Lifetime Achievement and Human Rights Advocate Award.
Peace Ambassador – Making a Difference Award
63rd Annual Christopher Award for Books for Adults
Honorary Citizenship from the Government of Buenos Aires
Community Justice Centre (CJC) Fellowship Citation
Dr. Jean Mayer Global Citizenship Award
Calgary Peace Prize
Lombardy Region Calabria Peace Prize
Queen's University Honorary Doctorate (Laws)
University of Manitoba Honorary Doctorate (Laws)
J Street's Voice to Our Values Hero
Association Pax Medicalis L'Olivier d'Or
Mahatma Gandhi Peace Award of Canada
Uncommon Courage Award
One of the 500 Most Influential Muslims
Nobel Peace Prize Nominee
Middle East Institute Award
Sakharov Prize for Freedom of Thought Finalist
Search for Common Ground Award
Stavros Niarchos Prize for Survivorship
Current Research Projects
The impact of conflict on social indicators of health in the Middle East
Access to medical care and quality of care in Gaza
Environmental indicators of health
Defining disease; socio-economic, environmental and cultural factors affecting what we call disease
Defining hate, its degrees and its origins
Representative Publications
Book: I Shall Not Hate: A Gaza Doctor's Journey (Published in 23 languages around the world).
Abuelaish, I. (13.02.2015). Opinion/Commentary, "The Chapel Hill shootings show how urgent it is that we abandon hatred", The Guardian, United Kingdom. http://www.theguardian.com/commentisfree/2015/feb/13/chapel-hill-shootings-abandon-hatred
Abuelaish, I. (11.08.2014). Opinion/Commentary, "Will Ottawa help the wounded children of Gaza?", The Toronto Star, Toronto, Canada. http://www.thestar.com/opinion/commentary/2014/08/11/will_ottawa_help_the_wounded_children_of_gaza.html
Abuelaish, I. (30.7.2014). Opinion/Commentary, "Canadians can help to heal wound in the Holy Land", The Toronto Star, Toronto, Canada. http://www.thestar.com/opinion/commentary/2014/07/30/canadians_can_help_to_heal_wound_in_the_holy_land.html
Abuelaish, I., "Closing the global gender gap", The Medical Journal of Australia" (04/03/2013).
Abuelaish, I., Nadia Fazal, Nancy Doubleday, Neil Arya, Blake Poland, and Rahim Valani "The mutual determinants of individual, community, and societal health and peace", International Journal of Peace and Development, http://www.academicjournals.org/ijpds/PDF/pdf2013/Feb/Abuelaish%20et%20al.pdf (21/02/2013).
Ronen, T., I. Abuelaish, M. Rosenbaum, Q. Agbaria, and L. Hamama. "Predictors of aggression among Palestinians in Israel and Gaza: Happiness, need to belong, and self control" Children and Youth Services ReviewVolume 35, Issue 1, January 2013, Pages 47–55 http://www.sciencedirect.com/science/article/pii/S0190740912003957
Ahmad, F., Yogendra, B.S., Li, Y., Khoaja, K., Norman, C.D., Lou, W., Abuelaish, I., Ahmadzi, H.M. (2012) "A Pilot with Computer-assisted Psychosocial Risk- assessment for Refugees", BMC Medical Informatics and Decision Making, http://www.biomedcentral.com/1472-6947/12/71/abstract, (18/07/2012)
Regev-Yochay, G., I. Abuelaish, R. Malley, D. Taran, M. Varon, Y. Roytman, A. Ziv, A. Goral, A. Elhamdany, G. Rahav, and M. Raz. (04.2012) "S. pneumoniae carriage in the Gaza strip: Evaluation of the Potential Effects of Pneumococcal Conjugate Vaccines" PLos One, 7(4).
Abuelaish, I. and N. Doubleday. (04.2011) "Holistic frontiers in peace and health research." International Journal of Peace and Development Studies, 2 (5): 156- 161.
Al-Krenawi, A., J. Graham and I. Abuelaish. (10.2008) "The psychosocial impact of polygamous marriages on Palestinian women." Women & Health, 34 (1): 1-16.
Bar-Yosef, U., I. Abuelaish, T. Harel, N. Hendler, R. Ofir, and O.S. Birk. (05.2004) "CHX10 mutations cause non-syndromic microphthalmia/anophthalmia in Arab and Jewish kindreds." Laboaratory of Human Molecular Genetics, Faculty of Health Sciences – Ben Gurion University of the Negev, Beer-Sheva, Israel. Human Genetics. 115(4): 302-9.
Abuelaish, I. (24.04.2011) Editorial, " Children are the best peacemakers in the Middle East", The Guardian – the Observer.
Abuelaish, I. (18.06.2011) Online editorial, "Let my daughters be the last to die", oped.ca, http://oped.ca/National-Post/izzeldin-abuelaish-let-my-daughters-be-the- last-to-die/, (25/05/2012).
Abuelaish, I. (30.04.2010) Editorial, "'Let my daughters be the last to die'", The National Post, Toronto, Ontario.
Abuelaish, I., S. Brajbart, and M. Einhorn. Samedi 31 mai et dimanche 1 juin 2003, Quotidien No 126: LE SOIR, Edition Bruxelles, Du passé, faisons table rases CARTE BLANCHE.