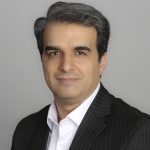 Faculty Member
Mohammad Reza Akbari M.D., Ph.D.
Email Address(es)

Office Phone

+416-351-3800 x5299

Office Address

76 Grenville St Room 6421 Toronto, Ontario M5S 1B2

Website(s)

Division(s)/Institute(s)

Position

Associate Professor

SGS Status

Full Member

Appointment Status

Status Only
Education & Training History
2010-2011: Postdoctoral fellowship in Genetic Epidemiology, Women's College Research Institute, University of Toronto, Toronto, Canada
2006-2010: PhD in Molecular Human Genetics, Institute of Medical Science, Faculty of Medicine, University of Toronto, Toronto, Canada
2002-2004: Research fellowship in gastroenterology, Digestive Disease Research Institute, Tehran University of Medical Sciences, Tehran, Iran
2000-2001: Internship, Tehran University Hospitals (Dr. Shariati , Imam Khomeini, Sina, Bahrami, Amir-A-lam), Tehran, Iran
1994- 2000: MD Degree from Tehran University of Medical Sciences (TUMS), Tehran, Iran
Other Affiliations
Womwn's College Research Institute, Women's College Hospital, University of Toronto
Institute of Medical Science, Faculty of Medicine, University of Toronto
Honours & Awards
2019: Emerging Leader Award, Faculty of Medicine's Alumni, University of Toronto, Toronto, Canada
2014: Capacity Development in Cancer Prevention Award, Canadian Cancer Society Research Institute, Ontario, Canada
2009: Awarded Ontario Graduate Scholarship (OGS) for studying Human Genetics in 2009-2010 academic year
2005: Awarded a UICC International Cancer Technology Transfer Fellowship
1993: Bronze medal winner of 25th International Chemistry Olympiad (I.Ch.O) in Italy
1992: Gold medal winner of the National Chemistry Olympiad in Iran
Current Research Projects
1- Investigating the Role of RECQL in Breast Cancer Susceptibility
2- The Screen Project: A guided direct-to-consumer genetic testing for breast cancer susceptibility in Canada
3- Iranome Genomic Variation Database
4- Using ctDNA for Detecting Residual Disease and Predicting Recurrence in Ovarian Cancer
5- Novel Biomarkers for Ovarian Cancer Screening
6- Reduce the bUrden of Breast cancer in Young women (RUBY) aged 40 and under
7- Searching for New Cancer Susceptibility Genes
Representative Publications
1- Ebrahimi E, Sellars E, Shirkoohi R, Harirchi I, Ghiasvand R, Mohebbi E, Zendehdel K, Akbari MR. The NCCN Criterion "Young Age at Onset" Alone is Not an Indicator of Hereditary Breast Cancer in Iranian Population. Cancer Prev Res (Phila). 2019 Nov;12(11):763-770.
2- Fattahi Z, Beheshtian M, Mohseni M, Poustchi H, Sellars E, Nezhadi SH, Amini A, Arzhangi S, Jalalvand K, Jamali P, Mohammadi Z, Davarnia B, Nikuei P, Oladnabi M, Mohammadzadeh A, Zohrehvand E, Nejatizadeh A, Shekari M, Bagherzadeh M, Shamsi-Gooshki E, BÃrno S, Timmermann B, Haghdoost A, Najafipour R, Khorram Khorshid HR, Kahrizi K, Malekzadeh R, Akbari MR, Najmabadi H. Iranome: A catalog of genomic variations in the Iranian population. Hum Mutat. 2019 Nov;40(11):1968-1984.
3- Cybulski C, Kluźniak W, Huzarski T, Wokołorczyk D, Kashyap A, Rusak B, Stempa K, Gronwald J, Szymiczek A, Bagherzadeh M, Jakubowska A, Dębniak T, Lener M, Rudnicka H, Szwiec M, Jarkiewicz-Tretyn J, Stawicka M, Domagała P, Narod SA, Lubiński J, Akbari MR; Polish Hereditary Breast Cancer Consortium. The spectrum of mutations predisposing to familial breast cancer in Poland. Int J Cancer. 2019 Dec 15;145(12):3311-3320.
4- Alimirzaie S, Bagherzadeh M, Akbari MR. Liquid Biopsy in Breast Cancer: A Comprehensive Review. Clin Genet. 2019 Jun;95(6):643-660.
5- Akbari MR, Gojska N, Narod SA. Coming of Age in Canada: A Study of Population-Based Genetic Testing for Breast and Ovarian Cancer. Curr Oncol. 2017 Oct;24(5):282-283.
6- Cybulski C, Carrot-Zhang J, Kluzniak W, Rivera B, Kashyap A, Wokolorczyk D, Giroux S, Nadaf J, Hamel N, Zhang S, Huzarski T, Gronwald J, Byrski T, Szwiec M, Jakubowska A, Rudnicka H, Lener M, Masojc B, Tonin PN, Rousseau F, Gorski B, Debniak T, Majewski J, Lubinski J, Foulkes WD, Narod SA, Akbari MR. Germline RECQL mutations are associated with breast cancer susceptibility. Nat Genet. 2015 Jun;47(6):643-6.
7- Holter S, Borgida A, Dodd A, Grant R, Semotiuk K, Hedley D, Dhani N, Narod S, Akbari MR, Moore M, Gallinger S. Germline BRCA Mutations in a Large Clinic-Based Cohort of Patients With Pancreatic Adenocarcinoma. J Clin Oncol. 2015 Oct 1;33(28):3124-9.
8- Pettapiece-Phillips R, Kotlyar M, Chehade R, Salmena L, Narod SA, Akbari MR, Jurisica I, Kotsopoulos J.Uninterrupted sedentary behavior downregulates BRCA1 gene expression. Cancer Prev Res (Phila). 2015 Nov 2. pii: canprevres.0291
9- Schütz E, Akbari MR, Beck J, Urnovitz H, Zhang W, Mitchell WM, Nam RK, Narod SA. Chromosomal instability in cell-free DNA is a serum biomarker for prostate cancer. Clin Chem. 2015 Jan;61(1):239-48.
10- Akbari MR, Wallis CJD, Toi A, Trachtenberg J, Sun P, Narod SA, Nam RK. The Impact of a BRCA2 Mutation on Mortality from Screen-Detected Prostate Cancer. Br J Cancer. 2014 Sep 9;111(6):1238-40.