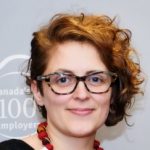 Faculty Member
Caroline W Bennett-​Abuayyash MSc, PhD
Email Address(es)

Office Address

Public Health Ontario 480 University Avenue Toronto, ON

Website(s)

Division(s)/Institute(s)

Position

Assistant Professor

SGS Status

Associate Member

Appointment Status

Status Only
Research Interests
I acknowledge my position as an Arab settler in Tkaronto (Toronto), the traditional territory of many nations including the Mississaugas of the Credit, the Anishnabeg, the Chippewa, the Haudenosaunee and the Wendat peoples. Tkaronto is home to many Indigenous people from across Turtle Island and I am extremely grateful for the opportunity to work and live on this land.

Broadly speaking, I am dedicated to education and action on applying a health equity lens using anti-oppression approaches. More specific examples of my work:
Opportunities and challenges in structural ways that health (care) can embed equity principles in research, planning, and practice
Knowledge exchange in multi-stakeholder and complex environments
Building organizational and system-level accountability on health equity and anti-racism action
*Please note that I am NOT accepting graduate students*
Other Affiliations
Knowledge Exchange Specialist, Public Health Ontario- Health Promotion, Chronic Disease, and Injury Prevention
Medical Advisory Board Member, National Collaborating Centre on the Determinants of Health
Education & Training History
PhD- Social Psychology, University of Western Ontario (2011)
MSc- Social Psychology, University of Western Ontario (2006)
BA- Political Science & Public Administration, American University of Beirut (2000)
Certificate– Disparities Leadership Program, Massachusetts General Hospital & Harvard Medical School (2015)
Representative Publications
Abdi, S., Bennett-AbuAyyash, C., MacDonald, L., Hohenadel, K., Johnson, K., & Leece, P. (2021). Provincial implementation supports for socio-demographic data collection
during COVID-19 in Ontario's public health system. Canadian Journal of Public Health. https://doi.org/10.17269/s41997-021-00551-2
Tuck, A., Oda, A., Hynie, M., Bennett-AbuAyyash, C., Roche, B., Agic, B., & McKenzie, K. (2019). Unmet health care needs for Syrian refugees in Canada: A follow-up study. Journal of Immigrant and Minority Health. https://doi.org/10.1007/s10903-019-00856-y
Tan-McGrory, A., Bennett-AbuAyyash, C., Gee, S., Dabney, K., Cowden, J. D., Williams, L, Rafton, S., Nettles, A. Pagura, S., Homes, L., Goleman, J., Caldwell, L., Page, J., Oceanic, P., McMullen, E., Lopera, A., Beiter, S., & Lopez, L. (2018). Identifying Disparities in Pediatrics: Sample Practices for Data Collection. BMC Pediatrics, 8. https://doi.org/10.1186/s12887-018-0993-2
Esses, V. M., Bennett-AbuAyyash, C., & Lapshina, N. (2014). How discrimination against ethnic and religious minorities contributes to the underutilization of immigrants' skills. Policy Insights from the Behavioral and Brain Sciences, 1, 55-62.
Wray. R., Agic, B., Bennett-AbuAyyash, C., Kanee, M., Lam, R., & Mohamed, A., & Tuck, A. (2013, September). We ask because we case: The tri-hospital + TPH health equity data collection project. Toronto, ON: Health Equity Data Collection Project Committee.
Esses, V. M., Hamilton, L., Bennett-AbuAyyash, C., & Burstein, M. (2010). What is a welcoming community? Research report prepared for the Integration Branch of Citizenship and Immigration Canada.
Esses, V.M., Jackson, L.M., & Bennett-AbuAyyash, C. (2010). Intergroup competition. In J.F. Dovidio, M. Hewstone, P. Glick, & V.M. Esses (Eds.), Handbook of prejudice, stereotyping, and discrimination. Sage: London, England.