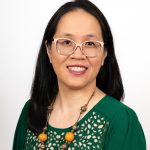 Faculty Member
Adrienne K. Chan MD, MPH, FRCPC
Email Address(es)

Office Phone

416-480-6044

Office Address

c/o the Anita Rachlis Clinic, H2-66, 2075 Bayview Avenue, Sunnybrook Health Sciences Centre, Toronto, ON, M4N 3M5

Website(s)

Division(s)/Institute(s)

Position

Associate Professor

SGS Status

Associate Member

Appointment Status

Status Only
Research Interests
Delivery of health services in resource limited settings:

Decentralization and roll-out of antiretroviral therapy and HIV related services
TB/HIV and NCD/HIV program integration
Scale up of PMTCT services
Task-shifting of services to address human resources for health constraints

Clinical research: reduction of mortality due to opportunistic infections (specifically TB and cryptococcal meningitis) in HIV patient with severe immunosuppression
West Africa Ebola Outbreak: long-term clinical and health systems sequelae
Education & Training History
Hons B. Sc. (1996; Immunology and History) and MD (2000), University of Toronto
Internal Medicine (2004) and Adult Infectious Diseases (2006) Residency, University of Toronto
MPH (2007; International Health), Knox Memorial Fellow, Harvard School of Public Health
Other Affiliations
Division of Infectious Diseases, Department of Medicine, Faculty of Medicine, University of Toronto
Sunnybrook Health Sciences Centre and Sunnybrook Research Institute
Institute for Health Policy, Management and Evaluation, University of Toronto
Professional Summary & Appointments
Associate Professor, Division of Infectious Diseases, Department of Medicine, University of Toronto (Primary appointment)
Institute for Health Policy, Management and Evaluation (Cross-appointment)
Clinician-Investigator and Staff Physician, Division of Infectious Diseases, Sunnybrook Health Sciences Centre
Medical Advisor (2011-19), Medical Coordinator (2008-10), HIV Clinic Coordinator (2007-8), Dignitas International (www.dignitasinternational.org)
Honours & Awards
Dean's Humanitarian Award, Faculty of Medicine, University of Toronto, (2019)
Inaugural Humanism in Medicine Award, Department of Medicine, University of Toronto (2018)
Social Responsibility Award (Faculty), Postgraduate Medical Education, University of Toronto (2016)
Representative Publications
See current publications list at PubMed.
Molloy S, Kanyama C, Heyderman R, Loyse A, Kouanfack C, Chanda D, Mfinango A, Temfack E, Lakhi S, Lesikari S, Chan AK, Stone N, Kalata N, Karunaharan N, Gaskell K, Peirse M, Ellis J, Chawinga C, Lontsi S, Ndong JG, Bright P, Lupiya D, Chen T, Bardley J, Adams J, van der Horst C, van Oosterhout JJ, Sini V, Mapoure YN, Mwaba P, Bicanic T, Lalloo DG, Wang D, Hosseinipour MC, Lortholary O, Jaffar S, Harrison T for the ACTA Trial Study Team. Fluconazole Fluctyosine Combination and Short Course Amphotericin-based therapy for Cryptococcal Meningitis in Africa. N Engl J Med 2018; 378(11):1004-17.
MacKenzie RK, van Lettow M, Gondwe C, Nyirongo J, Singano S, Banda V, Thaula E, Beyene T, Agarwal M, Garone D, Sodhi SK, Chan AK. Retention in care among adolescents on antiretroviral treatment at a tertiary referral hospital in Malawi: a nested case-control study of an adolescent-centered psychosocial support intervention "Teen Club". J Int AIDS Soc 2017; 20:e25028.
Beardsley J, Wolbers M, Kibengo FM, Kamali A, Cuc NTK, Binh TQ, Chau NVV, Farrar J, Merson L, Phuong L, Thwaites G, Kinh NV, Thuy PT, Chierakul W, Siriboon S, Thiansukhon E, Onsanit S, Supphamongkholchaikul W, Konpan P, Semran K, Chan AK, Heyderman R, Miwnjiwa E, van Oosterhout JJ, Imran D, Basri H, Mayxay M, Dance D, Phimmasone P, Rattanavong S, Lallo DG, Day JN on behalf of CryptoDex Investigators. Adjunctive steroids in HIV-associated cryptococcal meningitis: a randomized controlled trial in African and southeast Asian countries. N Engl J Med 2016; 374:542–54.
Mattia JG, Vandy MJ, Chang JC, Platt DE, Bausch DG, Brooks T, Conteh S, Crozier I, Fowler RA, Kamara AP, Kang C, Mahadevan S, Mansaray Y, Marcell L, McKay G, O'Dempsey T, Parris V, Pinto R, Rangel A, Sala AP, Shantha J, Wolfman V, Yeh S, Chan AK, Mishra S. Early clinical sequelae of Ebola virus disease during convalescence in Sierra Leone. Lancet Infec Dis 2016; 16:331–38.
Chan AK, Mateyu G, Jahn A, Schouten E, Arora P, Mlotha W, Kambanji M, van Lettow M. Outcome assessment of decentralization of ART provision in a rural district in Malawi using an integrated primary care model. Trop Med Int Health 2010; 15s1:90-97.