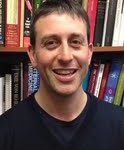 Faculty Member
David N. Fisman MD (Western Ontario), MPH (Harvard)
Email Address(es)

Office Phone

416 978 6866

Office Address

Division of Epidemiology, Dalla Lana School of Public Health 155 College Street Toronto, Ontario M5T 3M7

Division(s)/Institute(s)

Position

Professor

SGS Status

Full Member

Appointment Status

Tenured
Research Interests
Epidemiology of infectious diseases

Community- and hospital-acquired pneumonia
Epidemiology of enteric infections
Sexually transmitted infections
Laboratory datasets as epidemiological resources
Infectious diseases, seasonality, environment, and climate change

Mathematical modeling and simulation
Decision analysis and cost-effectiveness analysis
Primary Teaching Responsibilities
Epidemiology I (CHL5401)
Epidemiology of Infectious Diseases (CHL5412)
Mathematical Epidemiology of Infectious Diseases (CHL5425) (alternate years)
Professional Summary & Appointments
I am a Professor in the Division of Epidemiology. I am a Full Member of the School of Graduate Studies. I also have cross-appointments at the Institute of Health Policy, Management and Evaluation and the Department of Medicine, Faculty of Medicine. I serve as a Consultant in Infectious Diseases at the University Health Network.
Honours & Awards
I received the GlaxoSmithKline Elion Young Investigator Award in 2003 for my work on mathematical modeling of sexually transmitted infections, and a "Golden Apple" award for teaching at Drexel University School of Public Health in 2005.
Current Research Projects
We are currently a collaborating site for the York University-MITACS Centre for Disease Modeling.
We are currently collaborating with local, provincial, national and international partners on modeling the dynamics and economics of sexually transmitted infections, including Chlamydia, gonorrhea, syphilis, and genital herpes.
Our group has an active and evolving interest in the impact of environmental change, including degradation of water sources and global climate change, on the distribution and burden of infectious diseases, in high-, middle-, and low-income countries.
Representative Publications
Brown KA, Daneman N, Arora P, Moineddin R, Fisman DN. The co-seasonality of pneumonia and influenza with Clostridium difficile infection in the United States, 1993-2008. American Journal of Epidemiology 2013 doi: 10.1093/aje/kws463. http://aje.oxfordjournals.org/content/early/2013/05/08/aje.kws463.long.
Tuite AR, Greer AL, Fisman DN. Effect of latitude on the rate of change in incidence of Lyme disease in the United States. Canadian Medical Association Open Access Journal. 2013 April;1(1):E43-E47. Available via the Internet athttp://www.cmajopen.ca/content/1/1/E43.full.
Tuite AR, Fisman DN. Number-needed-to-vaccinate calculations: Fallacies associated with exclusion of transmission. Vaccine. 2013 Jan 30;31(6):973-8. Epub 2012 Dec 13.
Fisman DN, Chan CH, Lowcock E, Naus M, Lee V. Effectiveness and cost-effectiveness of pediatric rotavirus vaccination in British Columbia: a model-based evaluation. Vaccine. 2012 Dec 14;30(52):7601-7. Epub 2012 Oct 26.
Pitman R, Fisman D, Zaric GS, Postma M, Kretzschmar M, Edmunds J, Brisson M; ISPOR-SMDM Modeling Good Research Practices Task Force. Dynamic Transmission Modeling: A Report of the ISPOR-SMDM Modeling Good Research Practices Task Force-5.Value Health. 2012 Sep;15(6):828-34.
Fisman DN, Tuite AR. Estimation of the health impact and cost-effectiveness of influenza vaccination with enhanced effectiveness in Canada. PLoS One. 2011;6(11):e27420. Epub 2011 Nov 14.
Chan CH, McCabe CJ, Fisman DN. Core Groups, Antimicrobial Resistance, and Rebound in Gonorrhoea in North America. Sexually Transmitted Infections. 2012 Apr;88(3):200-4. Epub 2011 Dec 14. Available via the Internet at http://sti.bmj.com/content/88/3/200.long.
Tuite AR, Chan CH, Fisman DN. Cholera, canals, and contagion: Rediscovering Dr Beck's report. J Public Health Policy. 2011;32(3):320-33. Available via the Internet at http://www.palgrave-journals.com/jphp/journal/v32/n3/full/jphp201120a.html.
Kuster SP, Tuite AR, Kwong JC, McGeer A; Toronto Invasive Bacterial Diseases Network Investigators, Fisman DN. Evaluation of co-seasonality of influenza and invasive pneumococcal disease: results from prospective surveillance. PLoS Medicine 2011; 8(6): e1001042. Available via the Internet at http://www.plosmedicine.org/article/info%3Adoi%2F10.1371%2Fjournal.pmed.1001042.
Tuite AR, Tien J, Eisenberg M, Earn DJ, Ma J, Fisman DN. Cholera epidemic in Haiti, 2010: using a transmission model to explain spatial spread of disease and identify optimal control interventions. Annals of Internal Medicine. 2011; 154(9): 593-601. Available via the Internet at http://www.annals.org/content/154/9/593.long.