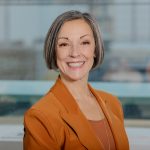 Faculty Member
France Gagnon MSc, PhD
Email Address(es)

Office Phone

416-978-0130

Office Address

Dalla Lana School of Public Health 155 College Street, Office 662 Toronto, ON M5T 3M7

Website(s)

Division(s)/Institute(s)

Position

Professor

SGS Status

Full Member

Appointment Status

Tenured

Admin Position

Associate Dean, Research

Currently Accepting Doctoral Students?

Yes
Research Interests
Research Area:
Genomic and epigenomic epidemiology
Quantitative trait genetics
Cardiovascular genetics and epidemiology
Research Activities:
Identifying sexual dimorphisms, genetic and epigenetic determinants of chronic cardiovascular diseases and risk factors through innovative study designs that integrate emerging molecular technologies and novel analytic approaches
Application of polygenic risk scores
Knowledge synthesis through systematic reviews and meta-analyses
Research training with specific emphasis on comprehensive cross- and inter-disciplinary training for epidemiological and statistical genetic research
Education & Training History
Fellowship (Genetic Epidemiology), University of Washington, Seattle
PhD, Biomedical Sciences (Cellular & Molecular Biology), Université de Montréal, Montréal
MSc, Experimental Medicine (Cardiovascular Epidemiology), Université Laval, Québec
BScN, BA, University of Ottawa, Ottawa
Primary Teaching Responsibilities
Fundamentals of Genetic Epidemiology (CHL5430)
STAGE (Strategic Training for Advanced Genetic Epidemiology) training program mentor and former director
Professional Summary & Appointments
Professor (tenured), Dalla Lana School of Public Health (DLSPH)
Associate Dean of Research
Full Member School of Graduate Studies
Selected Honours & Awards
2017, Selected for the New and Evolving Academic Leaders (NEAL) program, UofT
2016, Selected for the Science Leadership Program (SLP), UofT
2014, Anthony Miller Award for Excellence in Research, DLSPH
2014, President-Elect, International Genetic Epidemiology Society
2014, Graduate Teaching Award for Early Career Excellence, U of T Faculty of Medicine
2012, Canada Research Chair (Tier 2 renewal) in Genetic Epidemiology
2010, Elected on the Board of Directors, International Genetic Epidemiology Society
2007 and ongoing, Reviews Editor for the journal Human Genetics
2007, Early Researcher Award, Ontario Ministry of Research and Innovation
2007, Canada Research Chair (Tier 2) in Genetic Epidemiology
2006, New Investigator Award, Canadian Institutes of Health Research
2006, New Investigator Award, Heart and Stroke Foundation of Canada
2002, James V. Neel Young Investigator Award, International Genetic Epidemiology Society
Current Research Projects
Together with statistician and epidemiologist colleagues from the STAGE team, to develop a unified polygenic risk score analytics platform for risk prediction, causal inference and discovery. The team aims to enable development, testing and deployment of flexible, powerful and robust analytics tools, and to apply these tools to a wide range of health outcomes and contexts.
Together with collaborators in Ottawa, Toronto, Bordeaux and Marseille, my research group has launched a genomic and epigenomic research program of deeply phenotyped individuals from clinical cohorts and large French-Canadian families. Our goal is two-fold: 1) To identify and characterize clinically-relevant genetic and epigenetic determinants of venous thromboembolism and better understand its underlying molecular mechanisms. This includes the investigation of sexual dimorphisms underlying hemostatic traits variation and recurrent venous thromboembolism; 2) To incorporate these novel genetic and epigenetic determinants to clinical algorithms to better predict outcomes. We are using multi-disciplinary multi-design approaches enriched by hypothesis-driven strategies that have evolved from comparative and regulatory genomics work.
Active Grants as Principal Investigator
2019, 2020, McLaughlin Centre Accelerator Team Grant: A unified polygenic risk score analytics platform for risk prediction, causal inference and discovery
2019-2022, CIHR Project Scheme: Sex differences in the risk of recurrent venous thromboembolism: testing an epigenetic hypothesis
2018-2020, CIHR Catalyst Grant: Sex-specific DNA methylation in VKORC1 & UBIAD1 as variables in clinical decision rules for recurrent venous thromboembolism
Representative Publications
Ten representative publications in the past five years; trainees under my supervision underlined
Ward-Caviness C, Huffman JE, Everett K, et al. DNA methylation age is associated with an altered hemostatic profile in a multiethnic meta-analysis. Blood. Doi: 10.1182/blood-2018-02-831347. PMID: 30042098
Truong V, Huang S, Dennis J, Lemire M, Zwingerman N, Aïssi D, Kassam I, Perret C, Wells P, Morange PE, Wilson M, Trégouët DA, Gagnon F. Blood triglyceride levels are associated with DNA methylation at the serine metabolism gene PHGDH. Scientific Reports. Doi: 10.1038/s41598-017-0955-z. PMID: 28894120
Dennis J, Medina-Rivera A, Truong V, Antounians L, Zwingerman N, Strug L, Wells P, Trégouët DA, Morange PE, Wilson MD, Gagnon F. Leveraging cell type-specific regulatory regions to detect SNPs associated with a thrombosis endophenotype. Genetic Epidemiology. doi: 10.1002/gepi.22049. PMID:28421636
Zwingerman N, Medina-Rivera A, Kassam I, Wilson MD, Morange PE, Trégouët DA, Gagnon F. Sex-specific effect of CPB2 Ala147Thr but not Thr325Ile variants on the risk of venous thrombosis: A comprehensive meta-analysis. PLoS One. doi:10.1371/journal.pone.0177768. PMID:28552956
Mandaviya PR, Joehanes R, Aïssi D et al. on behalf of The CHARGE Consortium Epigenetics group and BIOS Consortium. Genetically defined elevated homocysteine levels do not result in widespread changes of DNA methylation in leukocytes. PLoS One. doi: 10.1371/journal.pone.0182472. PMID:29084233
Dennis J, Truong V, Aïssi D, Medina-Rivera A, Blankenberg S, Germain M, Lemire M, Antounians L, Civelek M, Schnabel R, Wells P, Wilson MD, Morange PE, Trégouët DA, Gagnon F. Single nucleotide polymorphisms in an intragenic chromosome 2q region associated with tissue factor pathway inhibitor plasma levels and venous thromboembolism. Journal of Thrombosis and Hemostasis.doi.org/10.1111/jth.13431. PMID:27490645
Kassam I, Gagnon F, Cusimano MD. Temporal trends in the association of the APOE-e
 allele with outcome of traumatic brain injury in children and youth:  A meta-analysis and meta-regression. Journal of Neurology, Neurosurgery, and Psychiatry.dx.doi.org/10.1136/jnnp-2015-310500. PMID: 25904811
Gagnon F, Aïssi D, Carrié A, Morange PE, Trégouët DA.  Robust Validation of Methylation levels association at CPT1A locus with Lipid plasma levels. Journal of Lipid Research. doi: 10.1194/jlr.E051276. PMID:24850808
Dennis J, Kassam I, Morange P, Tregouet D, Gagnon F.Genetic determinants of tissue factor pathway inhibitor plasma levels. Thrombosis and Haemostasis. doi: 10.1160/TH14-12-1043. PMID: 25879386
*Dick KJ, Nelson CP, Tsaprouni L et al. DNA methylation and body-mass index: a genome-wide analysis. Lancet. doi 10.1016/S0140-6736(13)62674-4. PMID: 24630777  Commented in: Callaway E.  Epigenomics starts to make its mark. Nature. doi:10.1038/508022a. PMID: 24695296; Murphy TM and Mill J. Epigenetics in health and disease: heralding the EWAS era. Lancet. doi:10.1016/S0140-6736(14)60269-5.PMID: 24630775; Osório J. Looking at the epigenetic link between obesity and its consequences: the promise of EWAS. Nat Rev Endocrinol. doi:10.1038/nrendo.2014.42. PMID: 24686199
Gagnon F. Cautious enthusiasm about GWAS findings. Blood. PMID: 25395143. doi:10.1182/blood-2014-10-601518