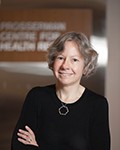 Faculty Member
Julia Alexandra Knight Ph.D.
Email Address(es)

Office Phone

(416) 586-8701

Office Address

Lunenfeld-Tanenbaum Research Institute, Mount Sinai Hospital 60 Murray Street, Room 5-211, Box 18 Toronto, ON M5T 3L9

Website(s)

Division(s)/Institute(s)

Position

Professor

SGS Status

Full Member

Appointment Status

Status Only
Research Interests
cancer epidemiology (particularly breast cancer)
child growth and development
vitamin D
body fat distribution
methods of breast tissue assessment including mammographic density and optical breast spectrosopy
Education & Training History
PhD and MSc in Epidemiology from the University of Toronto
Post-Doctoral Fellowship at Cancer Care Ontario
Primary Teaching Responsibilities
Co-coordinator of Cancer Epidemiology (CHL5409 H)
Professional Summary & Appointments
My primary appiontment is at the Lunenfeld-Tanenbaum Research Institute at Mount Sinai Hospital where I am a Senior Scientist and Leader of the Prosserman Centre for Health Research.
Honours & Awards
Current Research Projects
2012-2016 Mammographic density and risk of contralateral breast cancer
Investigators: Bernstein JL (PI), Knight JA (PI), Malone KE (PI), John EJ, Lynch C, et al.
US NIH
2011-2016 LEGACY: A cohort of youth in families from the Breast Cancer Family Registry
Investigators: Andrulis IA (PI), Knight JA (co-PI), Lilge L
US NIH
2011-2016 Genes, Environment, and Breast Cancer Risk: the 15 year Followup of ProfCY
Investigators: Terry MB (contact PI), Hopper JL (co-PI), Andrulis IA (site PI), Knight JA (site co-PI), et al.
US NIH
2009-2016 A genome-wide association study of radiation exposure and bilateral breast cancer
Investigators: Bernstein, JL (PI), Knight JA (Ontario PI), et al.
US NIH
Representative PublicatioNS
John EM, Terry MB, Keegan THM, Bradbury AR, Knight JA, Chung WK, Frost CJ, Lilge L, Patrick-Miller L, Schwartz LA, Whittemore AS, Buys SS, Daly MB, Andrulis IL. The LEGACY Girls Study: growth and development in the context of breast cancer family history. Epidemiol 27(3):438-48, 2016.
Terry MB, Phillips K-A, Daly MB, John EM, Andrulis IL, Buys SS, Goldgar D, Knight JA, Whittemore AS, Chung WK, Apicella C, Hopper JL. Cohort profile: the Breast Cancer Prospective Family Study Cohort. Int J Epidemiol, accepted.
Michailidou K, Beesley J, Lindstrom S,…Knight JA,…Chenevix-Trench G, Hall P, Easton DF. Genome-wide association analysis of more than 120,000 individuals identifies 15 new susceptibility loci for breast cancer. Nat Genet 47(4):373-80, 2015.
Blackmore KM, Knight JA, Walter J, Lilge L. The association between breast tissue optical content and mammographic density in pre- and post-menopausal women. PLoS One 10(1):e0115851, 2015.
Greenfield JA, Park PS, Farahani E, Malik S, Vieth R, McFarlane NA, Shepherd TG, Knight JA. Solar ultraviolet irradiance and other predictors of serum 25-hydroxyvitamin D concentrations in the 2007 to 2009 Canadian Health Measures Survey. BMC Pub Health 12(1):660, 2012.
Knight JA, Bernstein L, Largent J, Capanu M, Begg C, Mellemkjær L, Lynch CF, Malone KE, Reiner AS, Liang X, Haile RW, Boice Jr JD, WECARE Study Collaborative Group, Bernstein JL. Alcohol intake and cigarette smoking and risk of a contralateral breast cancer: the Women's Environmental Cancer and Radiation Epidemiology Study. Am J Epidemiol 169(8):962-968, 2009.