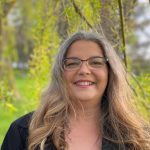 Faculty Member
Angela Mashford-​Pringle PhD, Dalla Lana School of Public Health, University of Toronto
Email Address(es)

Office Phone

416-978-8771

Office Address

155 College St., Room 404 Toronto, ON M5T 3M7

Website(s)

Division(s)/Institute(s)

Other Initiatives
Social & Behavioural Health Sciences Division
Waakebiness-​Bryce Institute for Indigenous Health

Position

Assistant Professor

SGS Status

Full Member

Appointment Status

Tenure Stream

Admin Position

Associate Director, Waakebiness-Bryce Institute for Indigenous Health Director, Collaborative Specialization in Indigenous Health

Admin Faculty Appointment

MPH* Degree Program

Currently Accepting Doctoral Students?

No
Research Interests
Land and Environment to address Climate Change using Indigenous traditional knowledge including land-based learning
Evidencing Inequities in Indigenous Peoples' Health including criminal justice, child welfare, and food systems
From Research to Action: Indigenous Health Policies and Cultural Safety Training
Advancing Indigenous Data Sovereignty and Indigenous Methodologies in Public Health Research
Indigenous land-based learning and pedagogies
Indigenous Health Policy research
Current Research Projects 2023 – for a fuller list see www.amplabresearch.com :
Dr. Angela Mashford-Pringle is Algonquin (Timiskaming First Nation/Bear Clan). She is Associate Director at the Waakebiness-Bryce Institute for Indigenous Health, Dalla Lana School of Public Health at the University of Toronto. As the Indigenous Health Lead for DLSPH, she oversees the new Indigenous Post-Doctoral Fellowship program. She worked for over a decade at the federal government in Indigenous initiatives. Angela is the Director of the Master of Public Health – Indigenous Health program (MPH-IH),  and Founding Editor of the Turtle Island Journal on Indigenous Health (TIJIH). She works with Indigenous communities with issues related to Indigenous health including cultural safety, land-based learning, climate action, and policy analysis and development.
For more information on Dr. Mashford-Pringle, please visit the AMP Lab website.  If you are a graduate student or Indigenous community member interested in being a part of the Turtle Island Journal of Indigenous Health (TIJIH), please take a look at the journal's website: https://jps.library.utoronto.ca/index.php/tijih.
Dr. Mashford-Pringle teaches CHL5520 Indigenous Health as an intensive course in May for MPH-IH and SBHS PhD students only, and CHL5523 Indigenous Health and Social Policy in May.