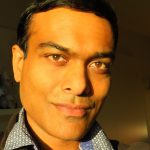 Faculty Member
Jerome Amir Singh BA, LLB, LLM, MHSc, PhD
Email Address(es)

Office Address

Division of Clinical Public Health Dalla Lana School of Public Health University of Toronto Toronto Canada and Centre for the AIDS Programme of Research in South Africa (CAPRISA) Nelson R. Mandela School of Medicine Durban, South Africa,

Website(s)

Curriculum Vitae

Division(s)/Office

Position

Adjunct Professor

SGS Status

Associate Member
Research Interests
Research ethics
Health law
Health and human rights
International humanitarian law
International Health Governance
Science and ethics
Technology and ethics
Jerome Amir Singh (BA, LLB, LLM, MHSc, PhD) is Head of Ethics and Law at the Centre for the AIDS Programme of Research in South Africa (CAPRISA), and the Director of the Ethical, Legal, and Social Issues (ELSI) Advisory Services on Global Health Research and Development, funded by the Bill and Melinda Gates Foundation. He is also Adjunct Professor in the Dalla Lana School of Public Health at the University of Toronto, Toronto, Canada. He serves as an ad hoc Consultant to several UN entities, including the WHO, UNAIDS, UNICEF, the Special Programme for Research and Training in Tropical Diseases (WHO-TDR), and the United Nations Interregional Crime and Justice Research Institute (UNICRI). He is the Co-Chairperson of the HIV Prevention Trial Network's (HPTN) Ethics Working Group, and a member of the HIV Vaccine Trial Network's (HVTN) Efficacy Trial Working Group. He is a member of the South African National AIDS Council (SANAC) Technical Task Team on Ensuring Protection of Human Rights and Improving Access to Justice. He currently serves on several oversight bodies, including the International Ethics Review Board of Médecins Sans Frontières (MSF). He is an elected Founding Member, and two-term Co-Chair of the South African Young Academy of Science (SAYAS), and currently serves as an Academic Editor for PLOS One. He has served as a member of the US NIH's Data and Safety Monitoring Board for Africa, the World Health Organisation's Ethics Task Force on TB Management, and on the health law advisory committee to the South African Law Reform Commission.
Primary Teaching Responsibilities
Global Health Governance (core module of the graduate certificate in Global Health for medical residents and fellows, Global Health Education Initiative, Postgraduate Medical Education, Faculty of Medicine, University of Toronto, Toronto, Canada).
Bioethics and the Law: Graduate course (Howard College School of Law, University of KwaZulu-Natal, Durban, South Africa).
Current Research Projects
Director / Principal Investigator: Ethical Legal, Social Issues (ELSI) Advisory Services on Global Health Research and Development (funder: Bill and Melinda Gates Foundation).
Head: Ethics and Law – Centre for the AIDS Programme of Research in South Africa (CAPRISA), Durban, South Africa
Representative publications