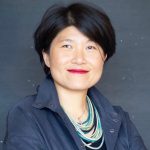 Faculty Member
Lei Sun Ph.D. in Statistics
Email Address(es)

Office Address

Department of Statistical Sciences 700 University Ave. Toronto, ON M5G 1Z5

Website(s)

Division(s)/Institute(s)

Position

Professor

SGS Status

Full Member

Appointment Status

Tenured

Currently Accepting Doctoral Students?

Yes
Research Interests
Statistical Genetics and Genomics
Applied Statistics and Data Science
Robust Association Methods
Multiple Hypothesis Testing
Selective Inference
Computational Tools
Education & Training History
2001: Ph.D. in Statistics, University of Chicago, USA
1995: B.S. in Mathematics, Fudan University, China
Other Affiliations
Department of Statistical Sciences, Faculty of Arts and Science (75%)
Division of Biostatistics, Dalla Lana School of Public Health (25%)
Primary Teaching Responsibilities
Current Research Projects
Statistical methodology projects:
2022-2027, Methods for including the X chromosome in genetic association studies to advance disease gene mapping (CIHR, co-PIs: Lei Sun and Andrew Paterson), $765,000.
2022-2024, Methods for genome-wide studies of variants with sex differences in genetic effect (Data Sciences Institute (DSI) Catalyst Grant, co-PIs: Lei Sun and Andrew Paterson), $100,000
2020-2024, Back to the future: fast and accurate identification of shared genomic segments for disease gene mapping using population-based linkage analysis to take advantage of founder effects (CIHR, co-PIs: Andrew Paterson and Lei Sun), $680,852.
2018-2023, Robust allele-based association analyses of complex genetic data (NSERC, Individual Discovery Grant), $260,000.
Collaborative projects:
2020-2022, Mitochondria, Inflammation and Genetics: New Approaches for Psychosis Early Detection and Intervention (CAMH Discovery Fund Seed Funding Competition, co-PIs: Vanessa Goncalves, Lei Sun;  co-I: James Kennedy), $198,022.
2019-2022, Genetic epidemiology of cystic fibrosis (Cystic Fibrosis of Canada, CFC, PI: Lisa Strug), $300,000.
Recent Publications with trainees§
A complete list at http://www.utstat.toronto.edu/sun/publications.html