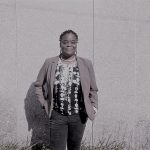 Faculty Member
Roberta K. Timothy B.A., M.A., M.Ed., Ph.D.
Email Address(es)

Division(s)/Institute(s)

Position

Assistant Professor

SGS Status

Associate Member

Appointment Status

Teaching Stream

Admin Position

Program Director

Admin Faculty Appointment

MPH* Degree Program
Research Interests
My research addresses key areas of concern in anti-colonial, anti-oppression, and community-responsive health promotion, policy, and practice. I am the Principal Investigator of the Black Health Matters Lab (since 2020) and my current research project is entitled : "Black Health Matters: National and Transnational COVID-19 Impact, Resistance, and Intervention Strategies Project /

La santé des noirs compte:  le covid-19 et son Impact – un projet de recherche national et transnationalsur nos actes de résistances et stratégies d'intervention.

Please see: " How to talk to children about racism and anti-Black racism" https://www.youtube.com/watch?v=GcfqkbC2c9k
I am the Black Health Lead,  and the program developer and Inaugural program director of the first MPH in the field of Black Health. I am an Assistant professor, a political scientist, therapist, and community health leader.

I specialize in the areas of intersectionality and ethics in health; Black health, confronting anti-Black racism, resistance and empowerment centred praxis; transnational African/Black and Indigenous health; racialized health, gender and violence;  Black families, healing and wellness, and anti-oppression/anti-colonial/decolonizing approaches to mental health. With extensive teaching experience in universities, colleges, and in social service organizations and community settings, I have particular expertise in critical health theories and social justice health policy development and implementation. I prioritize critical and creative approaches to knowledge production that reflect the experiences and aspirations of African/Black diasporic, migrant, refugee, and transnational Indigenous communities. My scholarship contributes to critical race theory by examining how factors such as Indigeneity, gender, class, sexual orientation, gender identity, (dis)ability, religion/spirituality, transgenerational connections, and historical and contemporary intersectional violence impact African/Black communities health and wellness, by centering community resistance through innovative decolonizing health practices, including art based practices.