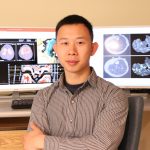 Faculty Member
Andy Kin On Wong PhD
Email Address(es)

Office Phone

416-340-4800 Extension 6276

Office Address

Toronto General Hospital 200 Elizabeth St, 7EN-238 Toronto, ON M5G 2C4

Website(s)

Division(s)/Institute(s)

Position

Assistant Professor

SGS Status

Full Member

Appointment Status

Status Only

Currently Accepting Doctoral Students?

Yes
Research Interests
Understanding the disease process for specific knee osteoarthritis phenotypes: a) in those with knee osteoarthritis and altered bone quality or bone turnover; and b) in those with metabolism-related knee osteoarthritis
Exploring treatment of knee osteoarthritis in those with impaired bone quality using antiresorptive therapies
Determining imaging-based predictors of success in knee arthroscopic surgeries
Innovating novel imaging techniques to discover more pain-sensitive measures
Generating population-based references to enable individual-based diagnostic evaluation for MSK diseases
Developing data-driven approaches to image segmentation using pixel morphometry
---
Background and Experience
I am a data scientist, imaging scientist and epidemiologist. Using this unique combination of skills, I study bones, muscles, joints, and fat in the aging population with particular focus on osteoarthritis, osteoporosis and the interaction of these diseases.
I have trained in conducting primary and secondary epidemiological studies over the last 10 years. As the co-director of the Canadian Multi-Centre Osteoporosis Bone Quality Study (CaMos BQS), a primary research study initiated in 2011, I am studying over 800 women and how peripheral CT-derived structural features can predict incident fractures over 5 years.
I am also involved with leading study and questionnaire design for cycles 5/6 and 7/8 of the Canadian Health Measures Survey – with focus on bone and muscle themes, respectively. This Statistics Canada – Health Statistics Division-led study involves over 10,000 Canadians from coast-to-coast.
In addition, I collaborate on a number of other multi-centre studies including the Study of Osteoporotic Fractures (SOF) in Women, the Osteoporotic Fractures in Men Study (MrOS), and the Osteoarthritis Initiative (OAI) led by colleagues at UCSF.
I am specialized in diagnostic methods and longitudinal studies – in particular, bio/imaging marker tool development, reliability assessment, and disease risk prediction. My research studies cover a broad range of statistical methods including multivariable linear modeling, competing risk/survival analyses, conditional process modeling (moderation), causal inference (mediation), factor analyses, structural equation modeling, and machine learning (variable selection, decision tree, neural networks).
My work involves a combination of data programming in SAS and R, and image processing and analysis in Python.
I am currently seeking new students and volunteers with interest in musculoskeletal health and analytical skills development. Those with a passion for programming are highly encouraged to inquire.
Two unique Joint PhD positions (Conferred by U of T and University of Melbourne) are also available. For more information, please see:
---
Additional Appointments:
Assistant Scientist, JDMI, Toronto General Hospital Research Institute (TGHRI)

Assistant Clinical Professor (Adjunct), Department of Medicine, McMaster University
---
Publications:
---
J Clin Densitom. 2017 Mar 27;:
J Am Med Dir Assoc. 2017 May 01;18(5):414-419
J Clin Densitom. 2017 Jan 03;:
J Musculoskelet Neuronal Interact. 2016 Dec 14;16(4):265-282
J Clin Densitom. 2017 Apr – Jun;20(2):226-232
Curr Osteoporos Rep. 2016 Dec;14(6):359-373
J Musculoskelet Neuronal Interact. 2014 Dec;14(4):401-10
J Musculoskelet Neuronal Interact. 2014 Sep;14(3):246-54
J Clin Densitom. 2015 Jul-Sep;18(3):408-18
J Clin Densitom. 2015 Apr-Jun;18(2):260-9
J Clin Densitom. 2015 Jan-Mar;18(1):124-35
J Clin Densitom. 2015 Jan-Mar;18(1):93-101
Magn Reson Med. 2011 Mar;65(3):790-5
Ther Adv Musculoskelet Dis. 2009 Feb;1(1):5-11
Osteoarthritis Cartilage. 2009 May;17(5):579-85