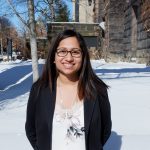 Featured Student
Sandra D'Souza
What's your program and specialty/subject matter of focus?     
I am a Master of Public Health Student enrolled in the Social and Behavioral Health Sciences stream and a student in the Public Health Policy Collaborative program.
Why are you studying public health/health policy?
I am interested in a career where I can address the social determinants of health and health inequities on a population level. My passion to address health inequities stems from my experiences working with community-based organizations, where I was first introduced to inadequacies in access to resources amongst marginalized groups in Toronto. Studying public health has helped me understand how to apply socio-ecological and health equity perspectives to my work in advocating for societal change. One of my goals for my graduate studies was to gain experience working on each level of the socio-ecological model and learn about the development of multi-level interventions.
Why did you choose to study at the Dalla Lana School of Public Health?
I completed my undergraduate degree in Health Studies at the University of Toronto Scarborough, where I had the opportunity to work with mentors on interdisciplinary projects involving public health. I was drawn to DLSPH because of the potential to contribute to research that addresses systemic inequities at local, national, and global levels. DLSPH has also given me the opportunity to collaborate and be mentored by leaders in the field of public health.
What are some current projects or research that you're involved in?
For my practicum last summer, I had the opportunity to work on a mixed-methods community-based research project at Planned Parenthood Toronto. It was designed to identify the sexual and reproductive health needs of young adult sex workers. I recently completed a two-year term with the Youth Health Action Network located at Toronto Public Health, where we worked on municipal-level health advocacy projects, such as advocating for smoke-free multi-unit housing.
Building on these experiences, I presently work with the Ontario Tobacco Research Unit on projects related to vaping and the recent ban of menthol in commercial cigarettes. I am also involved in research projects focused on LGBTQ+ youth's health and well-being.
Tell us about a challenge that you've had to overcome during your time at the School.
Reflecting on my first year, a challenge that I faced was learning how to be involved in the community while also balancing my coursework. Initially, I felt that I should take a step back from extracurricular involvement while transitioning to graduate studies. However, I have realized that by having one foot in the community and one foot in school, my work has become much more meaningful.
What's the best part of being a DLSPH student?
The best part of being a DLSPH student is having the opportunity to learn from my cohort. For me, a large, unrecognized part of my graduate school journey has been the opportunity to discuss public health issues with my brilliant classmates outside of our courses. They also have been a great support network, which I am very grateful for.
What's the one thing people can do to improve public health?
The challenges that we try to tackle in public health often fall in the jurisdiction of other disciplines. Therefore, I think it is important for us to actively seek interdisciplinary projects where we can collaborate with others and learn how to speak the same language with respect to public health issues.