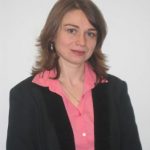 Featured Student
Virginia Gunn
Alumni – Lawrence S. Bloomberg Faculty of Nursing
Why did you choose to join the Collaborative Specialization in Global Health (formerly referred to as the Collaborative Doctoral Specialization in Global Health )?
A global health specialization presented itself as an excellent fit with my research interests, professional experiences, and career choices. Participating in this program allowed me to increase my understanding of the multidisciplinary approaches available to address ongoing and complex global health challenges. Being awarded the 2015-2016 Collaborative Doctoral Program in Global Health Fellowship and being a student in this program throughout my doctoral studies expanded my learning and research opportunities outside my home graduate unit.
What was your favorite aspect of the CSGH?
This collaboration enabled me to access specialized training, mentorship, and volunteer opportunities relevant to global health research and practice. While being a student in this program, I was able to attend monthly informative and eye-opening seminars, along with a multitude of relevant presentations, conferences, workshops, community events, and networking activities.
How has the CSGH impacted your education/future goals?
Since graduating from the PhD and CSGH programs, I was able to capitalize on this specialized knowledge and expertise in several ways. For instance, the cross-disciplinary research conducted with my PhD committee members and various research teams I work with has been published in journals such as the Oxford Bibliographies in Public Health, the International Journal of Health Services, American Journal of Industrial Medicine, and the International Journal of Nursing Studies. Most recently, an article I first-authored has been referenced in the State Of The World's Nursing 2020 World Health Organization report. I am also a member of an international group of researchers that study non-standard and precarious employment in Sweden, Belgium, Spain, Chile, USA and Canada to understand its effects on the health and well-being of workers and identify evaluated initiatives that have the potential to stop or counteract related negative effects. Being part of the CSGH specialization has also influenced my approach to teaching. Through the focus of my lectures and the choice of articles, I am striving to raise awareness among my students about the widespread health inequities and ongoing global health challenges and instill in them the same passion for this topic.
What have you learned about global health that you would like to share with prospective students?
Global health is much more than a preoccupation with worldwide disease prevention and treatment. Global health transcends not only national borders but also specific disciplines, research approaches, and theories. To make significant and sustainable contributions to public health both locally and globally, we have to continue to break down professional silos and expand on multidisciplinary research and implementation approaches. Such collaborations could speed up progress in improving global health and health equity and enable us to better address the upstream, structural sources of disease and inequality, or the so called 'causes of the causes'.