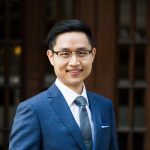 Featured Student
Calvin Ke
What would you say is the greatest challenge you have faced during your PhD?
Obtaining research funding was a challenging process. In today's research climate, securing funds is a complicated and ongoing challenge for many. However, Dalla Lana is well-connected and supports students by highlighting excellent funding opportunities that we may not have been aware of. I've also been supported by key mentors who helped position me for success in my applications. So my training has been really helpful in preparing me for the current reality.
Any advice/tips for the interview stage of application process?
Meet people in the midst of the program you're interested in. It's a great way to gauge whether the program is a good fit for your future goals. They can also help identify how your experience fits with the program, and how you can best highlight your strengths in your application. Dalla Lana is a really friendly community so don't be afraid to reach out!
Best and worst part about being a PhD student
Best – Having the freedom and time to learn and analyze data in diabetes and global health, areas I'm really passionate about
Worst – paperwork
How can you explain what you study to the everyday citizen?
There is an epidemic of diabetes happening in Canada and worldwide, especially among young people. This is important because diabetes causes people to die 6 years earlier on average. My research looks at why this is happening, what we can do to prevent it, and how we can help people with diabetes live longer and healthier lives.
Why UofT? What did it provide that other schools didn't?  
It's important to have great mentors, especially to succeed in research. U of T is a research powerhouse in Canada, so that means I have access to world leading professors in my area. I'm also part of a collaborative program in global health, a unique interdisciplinary program that is the only one of its kind of Canada.
What are some tips to really make your application for DLSPH stand out?
I think the school looks for people who are passionate about public health, and who can approach problems with creativity, innovation and energy. If public health sparks your interest, take a look at the many programs available at the school, and feel free to reach out to us!
What is your advice on gaining experience and networking within the public health field?
My best networking experiences were acquired by meeting people face to face (e.g at conferences, talks) and by referral through my mentors. So my advice is to get out there and attend events, and don't be afraid to ask people in your field such as your supervisor or mentor to help you connect with the right people.
Where can you work with your qualifications?
After I complete my studies, I want to be a clinician scientist. That means a doctor who focuses on doing research for most of my time, while spending some of my time seeing patients. Having a foot in both worlds brings a really valuable perspective to health research. Typically, a clinician scientist would be employed an academic institution.