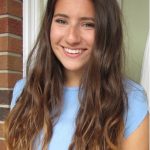 Featured Student
Alexia Medeiros
When and where did you complete your practicum?
I completed my practicum at the Ontario Tobacco Research Unit (OTRU) at The Dalla Lana School of Public Health during the summer of 2019.
What are your academic/research interests?
My academic/research interests include public health policy and chronic disease prevention. Specifically, how epidemiologic findings can influence policies and programs to prevent adverse health outcomes.
What are your career goals, and did your practicum experience change them in any way?
This practicum reinforced my career goals of eventually pursuing a career in public health policy. I want to use research findings to inform policies that will improve population health outcomes.
What were your primary responsibilities at your agency?
My primary responsibilities during my practicum were to lead statistical analyses on a survey about youth and young adult e-cigarette users. Additionally, I led the writing of two manuscripts arising from the analyses. Finally, I contributed to the development of a survey, checking for fraudulent survey entries and data collection.
What was most rewarding about your practicum experience?
The most rewarding part of my experience was being able to produce novel research on a new and relevant topic that has not yet been widely studied. Being able to meaningfully contribute to this body of research was an incredible experience.
What advice would you offer a prospective student who is considering an opportunity with your practicum site?
A piece of advice I would offer a prospective student who is considering an opportunity with OTRU is to consistently communicate with senior researchers to be clear about expectations and deadlines. OTRU is a very flexible workplace and while I appreciated this, it made it easier to get off track and lose focus. Setting deadlines for yourself and keeping lines of communication open will maximize productivity.
What was the most valuable lesson you learned during your practicum experience?
The most valuable lesson I learned during my practicum was to value my own opinions and experience. I was afraid to offer my perspective because I thought that the more senior researchers on the team had more experience and therefore did not require my input. The researchers on my team helped me learn that instead, I can offer a unique perspective and set of skills that differ from and complements other members of the team.