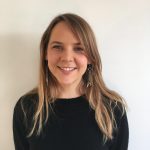 Featured Student
Erika Pulfer
What's your program and specialty/subject matter of focus?    
I am in the Master of Public Health, Social and Behavioural Sciences (Health Promotion) stream. I focus on a diversity of issues around the health and well-being of Indigenous peoples, and how inequality impacts health. I'm particularly interested in addressing how racism impacts health care access, and the relationship of language, culture, and land to health outcomes.
Why are you studying public health/health policy?
I entered into this program because I want to gain skills to bring back to my community work.  Before coming to DLSPH, I was working with Indigenous parents and families in Toronto, supporting cultural and peer-led programming, youth organizing, urban land revitalization, and front-line drop in and harm reduction. I saw public health as a field where I could learn how to build and understand a scientific evidence-base to complement and reinforce what many community members are already articulating about their own health situation and the impacts of social determinants. From here I want to be able to use evidence to co-create impactful programs and interventions with people who are most affected by the health and social issues we're trying to address.
Why did you choose to study at the Dalla Lana School of Public Health?
I didn't grow up in Toronto, but I've lived here for almost 10 years and although I'm a visitor in this territory, in many ways it feels like home. I deeply believe that good work is done through relationships, and this is where many of my relationships exist. I've learned so much from the communities I work with here; about public health issues, and the types of problems I need to be building skills to solve while in graduate school, and it's these communities that I continue to work with while I'm doing my studies.
I also like that DLSPH offers a practicum-based, flexible program that has allowed me to choose classes and opportunities that fit my interests, and shift as I learn more through the course of my degree.
What are some current projects or research that you're involved in?
I spent the summer as a practicum student at Well Living House at St Michael's Hospital and have stayed on as a part-time research coordinator. I've been supporting the development of a randomized control trial for cultural safety trainings that will help determine which type of training (length, pedagogy, education techniques), will have the greatest impact on health care provision for Indigenous people and ultimately decrease health disparities.
A lot of my work has been on understanding how training is evaluated (how we measure a reduction in health care providers' biases) – which is so important to changing some of the implicit or hidden beliefs and attitudes that impact how health care is provided to marginalized people.
Right now I'm working in my family's home community of Saddle Lake, Alberta (in Treaty Six territory) at University nuhelot'įne thaiyots'į nistameyimâkanak Blue Quills, working on food security and food sovereignty projects by bringing indoor growing systems to schools in reserves in North Eastern Alberta.
I love that my studies at DLSPH have made space for exciting projects like these, and that my public health knowledge and methodologies challenge me to dig deeper in the ways that I study and address issues to ensure bigger, more upstream impact.
Tell us about a challenge that you've had to overcome during your time at the School.
One of my biggest challenges has been to make sure that I'm staying connected to communities I work with and am part of, while I'm in school (Indigenous parents in Toronto's 'inner suburbs', youth and two-spirit led culture and land projects, and my family's home community). People who are most affected by health issues also hold the most important knowledge to address them, and sometimes it's hard to have your ears open when you have your head down in a book, or are learning from a researcher in a lecture hall.
Being connected to Well Living House has really helped, as has making sure that most of my assignments are done with groups that I'm part of so the work I am doing can contribute to their research, programs, or evaluation plans. The student-led conference this year was also a huge opportunity to bridge community and the university, and centre Indigenous voices in critical research, community resistance, and land and food sovereignty in the discussion about health. Being part of the conference planning team was a highlight of my time at DLSPH because it so successfully overcame this challenge for me and a lot of other students.
What's the best part of being a DLSPH student?
There are amazing relationships between DLSPH and public health institutions and community organizations around the world, which provide many opportunities to learn in real-time and apply, refine and continue to build skills before hitting the work force. Public health intersects with so many other disciplines and I'm excited to be able to learn across the university while being rooted in DLSPH.
What's the one thing people can do to improve public health?
Build genuine partnerships between impacted communities and research or interventions. Focus on the voices of people who are most affected by health issues when developing policy, programs or research agendas. DLSPH is training people to be experts and leaders in a field, and as students and future public health professionals we need to remember that our expertise is a skillset that should be used in collaboration with, and in the service of, communities confronting the impacts of social and health disparities.