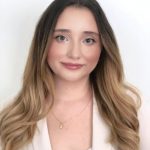 Featured Student
Mariana Rivera
When and where did you complete your practicum?
I completed my first practicum during the Summer of 2020 at the International Union for Health Promotion and Education (IUHPE), supporting their scientific publication Global Health Promotion (GHP). Subsequently, I completed my second practicum during the Winter of 2021 at Health Canada, engaging within the Policy Division at the Climate Change and Innovation Bureau (CCIB).
What are your academic/research interests?
I am interested in planetary health (i.e. climate change and health) and the intersection that exists with healthy public policy, health equity, and community engagement. I am also interested in knowledge translation and health communications, especially as they relate to (preparing for and responding to) the health impacts of climate change.
What are your career goals, and did your experience change them in any way?
My practicum experiences reinforced my aspirations of addressing health inequities in Canada by supporting program and policy innovations that challenge socio-ecological determinants of health in the context of climate change. My first practicum within the IUHPE offered me a greater understanding of the scientific communications process, along with the importance of stakeholder engagement and intersectoral collaboration in supporting health innovations. Similarly, my second practicum experience within Health Canada provided me with a greater understanding of the health impacts of climate change, along with the existing processes, challenges, and opportunities of policy and program development within the federal government.
What were your primary responsibilities at your agency?
At the IUHPE, my primary responsibilities included supporting the Editor in Chief and Managing Editors of GHP to advance the journal's mandate. This involved supporting with the improvement of the journal's strategy to prepare and disseminate high-quality evidence to inform health promotion programs, policies, and practices, and assisting with the editorial process of a special Call for Papers on Health Promotion Perspectives on the COVID-19 pandemic.
At Health Canada, my primary responsibilities included supporting with the delivery of the HealthADAPT program, Health Canada's climate change and health adaptation and capacity building initiative that supports the human health and wellbeing objectives of the Pan Canadian Framework on Clean Growth and Climate Change. My role involved assisting with a range of items, from an annual partner's meeting to drafting materials related to climate change and health adaptation.
What was most rewarding about your practicum experience?
Both practicums provided me with many opportunities to apply the theories, principles, and tools that I acquired in the classroom to real-life situations in my daily work. This was particularly rewarding because I was able to advance my learning through practice and make connections to systems-level challenges, particularly related to health equity, and intersectionality. In addition, both of the projects that I supported offered me the opportunity to contribute to the development of the Health Promotion and Planetary Health fields respectively, while making meaningful contributions to the organizations and advancing the health of people across different regions of the world.
What advice would you offer a prospective student who is considering an opportunity with your practicum site?
My advice to a prospective student is to identify your areas of interest and embrace any and all opportunities for learning and engagement that arise! Although both of my practicum experiences were very different, they both provided me with an optimal, positive learning environment to develop essential Health Promotion and Public Health Policy competencies. At the same time, I was developing key insights into my research areas of interest and connecting with professionals, academics, and students across displinary boundaries, backgrounds and lived experiences.
What was the most valuable lesson you learned during your practicum experience?
Both practicums crystallized the importance of keeping health equity at the forefront of all public health efforts, particularly recognizing that achieving equitable health systems starts with robust and inclusive policy development. Given the power of policy to shape innovations that dictate the standard of care experienced by individuals and communities, it is critical that the policies and practices that we support champion health equity for all. As a result of my practicum experiences, my interest in public health has evolved to not only address downstream determinants of health, but also consider the socio-political and economic structures that play a key role in alleviating barriers and supporting communities to achieve their full health potential.