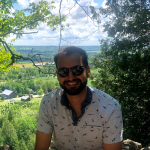 Featured Student
Harman Sandhu
What's your program and specialty/subject matter of focus?
I'm a PhD student in health services research (health policy emphasis) at the Institute of Health Policy, Management and Evaluation (IHPME), DLSPH. I'm also completing the collaborative specialization in public health policy.
Why did you choose this program and DLSPH? 
Both IHPME and DLSPH have outstanding reputations for teaching and research and I chose my program particularly to receive training from the top scholars within their respective fields. Here, I'm able to take courses that look at health policy through multiple lens and I have the opportunity to collaborate with students from different disciplinary backgrounds to enhance my learning. Finally, there are countless opportunities for me to get involved with ongoing research studies, student associations, and other community activities that I will look to take advantage of in the upcoming years.
What would you say to a prospective student who is just starting the school?
I have the unique experience of beginning my PhD studies during the COVID-19 pandemic when the courses are being delivered online. Coming into this environment as a virtual learner was challenging and the opportunities provided at IHPME and DLSPH can be overwhelming. I would tell prospective students, who are just starting out, to try and intentionally plan out what they want to get out of their time here. Think ahead about what your courses, dissertation, work and extracurriculars will look like. My PhD planning is organized in an evolving document that has helped me identify my priorities over the next few years, in consultation with my mentors and peers, and provides me with a general 'compass' for guidance.