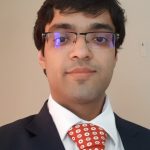 Featured Student
Abhinav Thakral
When and where did you complete your practicum?
I completed my second practicum at the UHN COMBIEL lab at Princess Margaret Cancer Centre during the winter of 2021. Princess Margaret Cancer Centre is one of the largest cancer centers globally, providing state-of-the-art care to people with cancer and cancer survivors. The institute conducts cutting-edge research to improve cancer outcomes.
What are your academic/research interests?
I am a pediatrician with research interests in pediatric genetic disorders. My goal is to expand the horizons of what is considered treatable. Through research, I intend to improve the quality of care for children with genetic disorders, many of which are considered untreatable. My research interest stems from my own experiences living with a disorder considered untreatable a century ago. As someone with type-one diabetes, I owe my life to one of the most significant discoveries at the University of Toronto: Insulin.
What are your career goals, and did your experience change them in any way?
Cancer research is slowly changing the way people think about the disease. Current therapies are not only improving survival but also the quality of life for people with cancer. Over the last two decades, newer therapies have changed the perspective for many advanced-stage cancers from death sentences to treatable chronic disorders. As such, working with cancer research has made me believe that my research interests in pediatric genetics are not too quixotic. My long-term career goal is to impact the lives of children with genetic disorders positively and to an extent similar to that of biologic therapies in cancer or insulin in type-one diabetes. The practicum at Princess Margaret Cancer Centre has further bolstered my belief in my goals.
What were your primary responsibilities at your agency?
I was involved with several projects during the practicum. My primary responsibility was to analyze a head and neck cancer dataset and assess the associations between the genetics of tobacco and alcohol use behaviors and the risk of cancer.  Due to the skills in Bioinformatics and statistical genetics that I had acquired in school, and the initiative I demonstrated, my preceptors involved me in two other projects.  One of these projects was a genome-wide association study of Cisplatin ototoxicity, and the other was an application of machine learning approaches to a colorectal cancer dataset.
What was most rewarding about your practicum experience?
Working with the head and neck cancer dataset, we generated several novel insights into the biology of head and neck cancers. The realization that the analysis I was involved in would impact our understanding of head and neck cancer risk was particularly rewarding. The valuable feedback that I received from my expert supervisors was another equally rewarding experience during the practicum.
What advice would you offer a prospective student who is considering an opportunity with your practicum site?
Take advantage of the inter-disciplinary nature of the lab. The lab has experts from diverse academic backgrounds, including medicine, epidemiology, biostatistics, computer science, and molecular biology. To answer their research question, the student can avail the opportunity to use cutting-edge analytic methods and expert opinion from diverse disciplines.
What was the most valuable lesson you learned during your practicum experience?
I witnessed experts from diverse academic backgrounds collaborating while solving challenging public health problems. The most valuable lesson I learned was that public health is interdisciplinary.