Alumni-​Student Mentorship Program Launches
March 8/2016
The 2016 Alumni-Student Mentorship Program launched on February 9, 2016 at a Health Sciences building event that was attended by more than 60 students and alumni, both in person and via Skype. Now in its fourth year, the program — a partnership between the Public Health Alumni Association (PHAA) and Dalla Lana School of Public Health — received a record-breaking number of Master's student applications who are keen to receive mentoring from experienced public health professionals.
"We are so pleased to welcome 33 new alumni mentors to the program as we continue to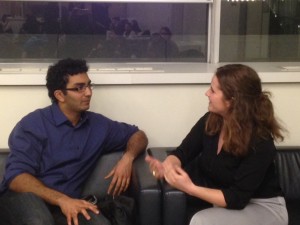 expand our network of alumni involved in the program, the PHAA and the School," says Laura White, co-chair of the Alumni-Student Mentorship Program and PHAA Board member.
"We are equally thrilled to have 19 returning mentors, which speaks to their positive experience with the program and demonstrates the incredible engagement of our alumni community," said White, who received an MPH in Health Promotion in 2011 and is now working at Ontario's Ministry of Health and Long-Term Care.
The 2016 program features 52 mentor-mentee pairs, with representation from a wide range of DLSPH Master's programs, including: Biostatistics, Epidemiology, Health Promotion, Nutrition and Dietetics, and Occupational and Environmental Health.
As with previous years, the 2016 program includes a diverse group of accomplished alumni mentors who graduated from DLSPH in 1990s through to 2015 from a range of sectors, including academic, research, hospital, government, community, non-profit and private industry settings. Some mentors live as far as Cape Town, South Africa, Yellowknife, Northwest Territories, and Vancouver, British Columbia, with many in the GTA and surrounding region.
"We are incredibly thankful that so many alumni agreed to be involved because the program significantly contributes to the learning and development of our students," said Julie Foisy, DLSPH Practicum Placement and External Relations Officer and other co-chair of the program.
The 2016 program is no longer open to new participants. If you are interested in being involved in the 2017 program or have any questions, please contact the Public Health Alumni Association.
Photo: First Year Health Promotion Master's Student, Pratik Nair (left), and his mentor, Alison Crepinsek, a graduate of the MPH Program in Health Promotion in 2011, who is now a Project Coordinator at the University of Toronto.