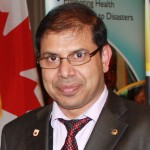 Faculty Member
Shafi U. Bhuiyan MBBS, MPH, MBA, PhD
Research Interests
Maternal and Child Health Handbook (MCH) in the World
Maternal, Neonatal and Child Health Care Development
Global Health Collaborative Research
Capacity Building of Global Public Health Researcher
Health Promotion Program Impact Evaluation
Education & Training History
MBBS, Sir Salimullah Medical College, Faculty of Medicine, University of Dhaka, Bangladesh
MPH, Faculty of Public Health, Mahidol University, Bangkok, Thailand
MBA, Ted Rogers School of Management, Ryerson University, Canada
PhD, Global Human Sciences, Osaka University,  Japan
Other Affiliations
Co-founder and Program Lead ITMDs Post-Graduate Bridging Program, the Chang School of Continuing Education, Ryerson University, Canada
Global Health Education and Research Fellow, The G. Raymond Chang School of Continuing Education, Ryerson University, Toronto, Canada
Distinguished Visiting Professor, Faculty of Community Services and The G. Raymond Chang School of Continuing Education, Ryerson University
Adjunct Professor, School of Public Health and Safety, Faculty of Community Services, Ryerson University, Canada
DLSPH Council & Executive Committee Member, Dalla Lana School of Public Health, U of T, Canada 2014-2016
DLSPH Council Education Committee Member, Dalla Lana School of Public Health, U of T, Canada 2017-2018
Consultant, Death 101MOOC, Center for Global Health Research (CGHR), St. Michael's Hospital
Board of Director, Canadian Coalition for Global Health Research (CCGHR), 2016-2018
UAC Member & University Liaison, Canadian Coalition for Global Health Research (CCGHR)
Co-Chair, CCGHR Capacity Development Program Area (CDPA) Canada, 2014-2017
Ryerson University Partnership Liaison, CAN-MNCH
Member, Canadian Society for International Health (CSIH)
Member, Canadian Public Health Association (CPHA)
Technical Expert & Faculty Member, ASEAN Institute for Health Development (AIHD), Mahidol University, Thailand '05-'07
Post-Doctoral Scientist, Japan Society for the Promotion of Sciences (JSPS), Osaka University, Japan '07-'09
Visiting Lecturer, International Collaboration Division, Global Human Sciences, Osaka University, Japan '09-'10
Founding Board Member, International Committee on MCH Handbook, Osaka University, Japan
MO (MCH-FP), Ministry of Health and Family Welfare, Dhaka, Bangladesh ('95-'98)
Project Liaison Officer, Improvement of MCHTI Japanese Grant Aid Project, MOH&FW, Bangladesh '98
UNFPA Consultant, Urban Primary Health Care Project (UPHCP) Bangladesh '00
Asst. Training Coordinator, Maternal and Child Health Training Institute, DGFP, Bangladesh '07
Life Member, Bangladesh Medical Association (BMA)
Member, The International Society for Urban Health
Reviewer, International AIDS Society (IAS)
Scientific Reviewer, CUGH, USA  2014-2017
Youth Exchange Chair: Lions Club International A711 (2013-2015)
Primary Teaching Responsibilities
International Health Development CHL7001H S6
Open Lecture on multi-disciplinary multi-cutural Global Health issues
Global Health field research mentorship to graduate students
Global Health young researcher/students field research methodology
Graduate Students' thesis, field study and publications support
Professional Summary & Appointments
During a passionate nearly two decades career in public health research and management I've served as a health research training specialist, public health project lead at nationally and internationally. I've also served as a university lecturer cum technical expert, mentor, foreign researcher, and senior health research manager.
To ensure community health & social development and human security perspective we must challenge ourselves to be innovative and collaborate. In this respect I've facilitate to develop national center of excellence as well as development of KTE instruments to address MCH services unmet needs and system development tool in developing countries. Being an academic- researcher & knowledge user, I've established an international platform to contribute health system development in many countries.
Since 2001 to share collective knowledge, skills and experiences among academics, researchers, community leaders, government officials as well as graduate students and development partners. I have organized international conferences in several countries where participants gather together from 16 countries to discuss health research practice into policy and vice versa. I've extensive research experience in hospital based and community based participatory research. I served as a Sr. Manager for CIHR funded research projects at OHTN and oversee multiple project management. I am affiliated with the International Committee on MCH Handbook, Osaka University, Japan; Dalla Lana School of Public Health, University of Toronto; Faculty of Community Services and The G. Raymond Chang School of Continuing Education at Ryerson University, CANADA.
I've published several research articles in peer reviewed journals & author of a book entitled "MCH Handbook" which was internationally awarded by Japanese Society for Promotion of Sciences with grant aid research funding. I'm also editorial committee and scientific founding member of the world report on MCH Handbook and IAS Scientific reviewer.
Specialties:Public Health – Urban Health Management , MNCH-RH/FP and HIV/AIDS, Program Operations & Management, International Health Development/ Global Health Education and Research, Partnership Development and Management etc.
Honours & Awards
UNFPA Fellowship/MPH Study Award, Strengthening of MCH Program in Bangladesh
Monbushu Ph.D Study Award, Government of Japan, Ministry of Education, Science and  Technology, Japan
Japan Society for the Promotion of Science (JSPS) Fellowship, International Collaboration Division, Osaka University, Japan
Current Research Projects
Empowerment of women and their families seeking maternal, neonatal and child health services through a maternal and child health handbook for use in rural communities in Bangladesh
A Pilot Development of MCH Handbook in Bangladesh
The Utilization of MCH Handbook in Community Clinics (rural) and Hospitals (urban)
MCH Handbook: Impact Evaluation
HIV Prevention Collaborative Project in Bangladesh
Representative Publications
Bhuiyan S, Begum H, Deena, Ehsan S, Jamal Shah S, et al. (2017) Maternal and Child Health (MCH) Handbook and Its Effect on Maternal and Child Health Care: A Systematic Review and Meta-Analysis. J Community Med Public Health: CMPH-109. Vol. 2017, Issue 02.
Shafi Bhuiyan. [Technical Brief]: Piloting MCH Handbook for increasing women's knowledge on maternal and child health in Bangladesh. JICA Technical Brief, JICA, Sep. 2017 [Accepted].
Shafi Bhuiyan et al.  Maternal and child health handbook: Utilization and lessons learned from selected evidence-based studies. J Pub Health Dev. 2017: 15(2): 87-100.
Shafi Bhuiyan, Farah Tahsin. Maternal and Child Health in Bangladesh: Transitioning from MDGs to SDGs, International Journal of Current Research Vol. 9, Issue, 05, pp.49982-49993. May 2017.
Shafi Bhuiyan. Building the Capacity of Ontario's health care sector through the integration of internationally trained medical doctors (ITMDs): A preliminary result from a pilot bridging program at Ryerson University. Ted Rogers School of Management (TRSM), Ryerson (June 2016 Presentation).
Shafi Bhuiyan. MNCH Handbook in the World: Lessons Learned from Selected Evidence-Based Studies. (Nov 2016, Tokyo MCH Handbook 10th Conference Presentation)
Shafi Bhuiyan. A Handbook: The Global Impact of Maternal and Child Health. UN Special Magazine,     WHO. Vol. 749. P 14-15, May 2015
Shafi Bhuiyan, Nakamura Yasuhide, Usha George, Marie Bountrogianni, (October 2013). MCH handbook international collaboration: ensuring human security, women empowerment and continuity of MNCH care-experience from Japan (poster presentation). 20th Canadian Conference on International Health, Ottawa, Canada.
Tucker, R. and Rourke, S.B. , Greene, S., Bekele, T. Bhuiyan, S., and the Positive Spaces Healthy Places Team. Housing and Health Related Quality of Life among Persons Living with HIV/AIDS: Design and Implementation of the Positive Spaces, Healthy Places Study. AIDS and Behavior. (AIDS Behav (2012) 16:2361–2373 DOI 10.1007/s10461-012-0284-0Published Sept 2102.
Sean B. Rourke, Tsegaye Bekele, Ruthann Tucker, Saara Greene, Michael Sobota, Jay Koornstra, LaVerne Monette, Jean Bacon, Shafi Bhuiyan, Sergio Rueda, James Watson, Stephen W. Hwang, James Dunn, Keith Hambly. Housing Characteristics and their Influence on Health-Related Quality of Life in Persons Living with HIV in Ontario, Canada: Results from the Positive Spaces, Healthy Places Study. AIDS and Behavior, Nov. 2012, Volume 16, Issue 8, pp 2361-2373.
Shafi U. Bhuiyan. Nakamura Y., Continuity of Maternal, Neonatal and Child Health Care through MCH Handbook for Ensuring the Quality of Life. Child Research Net. http://www.childresearch.net/RESOURCE/RESEARCH/2009/BHUIYAN_NAKAMURA.HTM
Mayoh, M., Rourke, S.B., Tucker, R., Hogg, R., Kennedy, R., Chittock, B., Jones, J.E., Jose, M., Monteith, K., Klein, M., Anema, A., Fielden, S., Miewald, C., Bhuiyan, S., Rueda, S., Palmer, A. (November, 2010). Working Towards Harmonization Across Health Research Studies: "The Ontario HIV Health Study (Poster presentation). The OHTN 12th Annual Research Conference, Toronto, Ontario.
Monette, L. & Rourke, S.B. , Bhuiyan, S., and the Positive Spaces, Healthy Places Team. (2011). Inequalities in determinants of health among Aboriginal and Caucasian persons living with HIV/AIDS in Ontario: Results from the Positive Spaces, Healthy Places Study. Canadian Journal of Public Health, 102(3): 215-219.
Sok, P., Rourke, S.B., Seeman,M.V., Rueda, S., Bhuiyan, S., and the Positive Spaces, Healthy Places Team (November 2011). Gender Difference: Analyses of Risk Burdens Across Age in People Living with HIV/AIDS (Poster Presentation). The OHTN 13th Annual Research Conference, Toronto, Ontario.
Shafi U. Bhuiyan. Empowerment of Women in Islamic Society: Through Maternal and Child Health (MCH) Handbook in Bangladesh. Paper presented on the 7th International Conference on MCH handbook, Dhaka, Bangladesh 2010
Shafi U. Bhuiyan. Development, field testing and potential benefits of a Maternal and Child Health (MCH) Handbook in Bangladesh. Journal of International Health Development 2009 Vol. 24 No. 2
Bhuiyan Shafi., Nakamura Y. Improvement of maternal, neonatal and child health care services through MCH handbook in Bangladesh. Paper presented on the 6th International Conference on MCH handbook, Tokyo 2008
Hasan A., Chompikul J., Bhuiyan S.U. Patient Satisfaction with Maternal and Child Health Services among Mothers Attending the Maternal and Child Health Training Institute in Dhaka, Bangladesh. Journal of Public Health and Development 2007 Vol. 5 No. 3: 23-33
Labay E.M., Bhuiyan S.U., Hongkrailert N. Risk Factors Relating to the Diarrheal Disease Occurrence among under 5 Children at Samut Sakhon Province, Thailand. Journal of Public Health and Development 2007 Vol. 5 No. 3: 63-74
Md.Yunus, Jutatip S., Shafi U. Bhuiyan. Acceptance of Family Planning Methods among the Married Women of Reproductive Age at Methapukur Upazila, Bangladesh. Journal of Public Health and Development 2007 Vol. 5 No.1:53-62
Nguyen H. Thuong, Shafi U. Bhuiyan, Sutham N. Determinants Related to the Utilization of Voluntary Counselling and HIV Testing Service in Vietnam. Journal of Public Health and Development 2007 Vol. 5 No. 1: 63-75
Siswanto E., Bhuiyan S.U., Chompikul J. Knowledge and Perception of Pneumonia Disease among Mothers of Children under Five Years attending Nakhon Pathom General Hospital, Thailand. Journal of Public Health and Development 2007 Vol. 5 No. 2: 43-54
Shafi U. Bhuiyan, Nakamura Y., Nahid A. Qureshi. Study on the Development and Assessment of Maternal and Child Health (MCH) Handbook in Bangladesh.  Journal of Public Health and Development 2006 Vol. 4 No. 2: 45-60
Pandara V.E. Isaranurug S., Bhuiyan S.U. Utilization of MCH Handbook and Exclusive Breastfeeding Among Mothers of Children 6 to 12 months old in Manado, Indonesia. Journal of Public Health and Development 2006 Vol. 4 No. 3: 65-74
Bhuiyan Shafi, Nakamura Y. GO-NGO Partnership Challenges and Opportunities in the New Millennium: A case Study of Reproductive Health Initiative in Bangladesh. The Bulletin of Human Sciences 2004 Vol. 30: 209-220
Bhuiyan Shafi, Qureshi N. Health Information, education and communication needs: a case study of a health education workshop in a public maternity hospital in Bangladesh. Journal of Asian Women's Studies 2004 Vol. 13: 57-63
Bhuiyan Shafi. An Experience of Low Birth Weight Study: A Major Public Health Challenge in Bangladesh. 'Syn' The Bulletin of Volunteer Studies 2003 Vol.4: 59-72
Bhuiyan Shafi, Qureshi N. Skilled Birth Attendance and MCH Handbook: Unmet Challenges for Safe Delivery in Bangladesh. 'Syn' The Bulletin of Volunteer Studies 2002 Vol.3: 33-45
Bhuiyan Shafi. Public-Private Partnership Experiences in Bangladesh. The Journal of Japan Association for International Health 2002 Vol. 17 (Supplement): 89-89