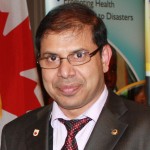 Faculty Member
Shafi U. Bhuiyan MBBS, MPH, MBA, PhD
Email Address(es)

Office Phone

Tel: 416 978 7513; Mobile: 647 534 3946

Office Address

Health Sciences Building, Room # 766 | 155 College Street, Toronto M5T 3M7, ON

Website(s)

Division(s)/Office

Position

Assistant Professor

SGS Status

Associate Member

Appointment Status

Contract
Research Interests
Maternal and Child Health Handbook (MCH) in the World
Maternal, Neonatal and Child Health Care Development
Global Health Collaborative Research
Capacity Building of Global Public Health Researcher
Health Promotion Program Impact Evaluation
Education & Training History
MBBS, Sir Salimullah Medical College, Faculty of Medicine, University of Dhaka, Bangladesh
MPH, Faculty of Public Health, Mahidol University, Bangkok, Thailand
MBA, Ted Rogers School of Management, Ryerson University, Canada
PhD, Global Human Sciences, Osaka University,  Japan
Other Affiliations
Chair, Board of Directors, Canadian Coalition for Global Health Research (CCGHR), 2018-2020
Co-founder and Academic Director/Program Lead ITMDs Post-Graduate Bridging Program, the Chang School of Continuing Education, Ryerson University, Canada
Distinguished Visiting Professor, Faculty of Community Services and The G. Raymond Chang School of Continuing Education, Ryerson University
Adjunct Professor, School of Public Health and Safety, Faculty of Community Services, Ryerson University, Canada
Global Health Education and Research Fellow, The G. Raymond Chang School of Continuing Education, Ryerson University, Toronto, Canada
DLSPH Council & Executive Committee Member, Dalla Lana School of Public Health, U of T, Canada 2014-2016
DLSPH Council Education Committee Member, Dalla Lana School of Public Health, U of T, Canada 2017-2018
Consultant, Death 101MOOC, Center for Global Health Research (CGHR), St. Michael's Hospital
CCGHR_UAC Member & University Liaison, Canadian Coalition for Global Health Research
Co-Chair and Treasurer, CCGHR Capacity Development Program Area (CDPA) Canada, 2014-2018
Ryerson University Partnership Liaison, CAN-MNCH/ CanWACH
Member, Canadian Society for International Health (CSIH)
Member, Canadian Public Health Association (CPHA)
Technical Expert & Faculty Member, ASEAN Institute for Health Development (AIHD), Mahidol University, Thailand '05-'07
Post-Doctoral Scientist, Japan Society for the Promotion of Sciences (JSPS), Osaka University, Japan '07-'09
Visiting Lecturer, International Collaboration Division, Global Human Sciences, Osaka University, Japan '09-'10
Founding Board Member, International Committee on MCH Handbook, Osaka University, Japan
MO (MCH-FP), Ministry of Health and Family Welfare, Dhaka, Bangladesh ('95-'98)
Project Liaison Officer, Improvement of MCHTI Japanese Grant Aid Project, MOH&FW, Bangladesh '98
UNFPA Consultant, Urban Primary Health Care Project (UPHCP) Bangladesh '00
Asst. Training Coordinator, Maternal and Child Health Training Institute, DGFP, Bangladesh '07
Life Member, Bangladesh Medical Association (BMA)
Member, The International Society for Urban Health
Reviewer, International AIDS Society (IAS)
Scientific Reviewer, CUGH, USA  2014-2018
Youth Exchange Chair: Lions Club International A711 (2013-2015)
Charter President, Toronto Global Doctors Lions Club, and Zone Chair (7B), Lions Clubs International District A 711, Canada
Board of Directors of the Birchmount Bluffs Neighbourhood Centre (BBNC), Scarborough South-West, Toronto, ON
Primary Teaching Responsibilities
International Health Development CHL7001H S6
Open Lecture on multi-disciplinary multi-cutural Global Health issues
Global Health field research mentorship to graduate students
Global Health young researcher/students field research methodology
Graduate Students' thesis, field study and publications support
Professional Summary & Appointments
Dr. Shafi Bhuiyan is an RBC Top 25 Canadian Immigrants award finalist, and a winner of the Council of Agencies Serving South Asians award for civic engagement & leadership in Canada. He is an internationally recognized leader in global public health education and research initiatives, with diverse experience in both developed and developing countries. Currently, as a faculty member of clinical public health at the University of Toronto, Dr. Bhuiyan teaches graduate students at Dalla Lana School of Public Health. He is also Adjunct Professor and Co- Founder & Program Lead of the innovative Internationally Trained Medical Doctors (ITMD) Post-Graduate Bridging Program at Ryerson University, which provides ITMDs with training to transition into non-licensed healthcare positions. Dr. Bhuiyan is a keen supporter of capacity building for the next generation of young professionals. He has taught for over 15 years in global public health graduate programs at Osaka University in Japan, the ASEAN Institute of Health Development at Mahidol University in Thailand, and at Ryerson University and the University of Toronto. Dr. Bhuiyan has a track record of developing active collaborations with academics, policymakers, and educational institutions, both nationally and internationally. Since 2013, Dr. Bhuiyan has been a board member and treasurer of the Canadian Coalition for Global Health Research (CCGHR), co-chair of the Capacity Building Program within CCGHR, and a liaison for the CCGHR University Advisory Council. Currently Dr Bhuiyan elected as CCGHR Board Chair (2018-2020). Reflecting his commitment to community services engagement and leadership, Dr. Bhuiyan recently joined the Board of Directors of the Birchmount Bluffs Neighbourhood Centre (BBNC). He is also University Liaison for the Canadian Partnership for Women and Children's Health (CanWaCH), the founding Chairman of Internationally Trained Medical Doctors Canadian Network (ICaN), the founding member/scientific director of the International Committee on the MCH Handbook, and  the Charter President of the Toronto Global Doctors Lions Club, an affiliate of Lions Clubs International. Dr. Bhuiyan was instrumental in improving maternal, neonatal, and child health promotion in Bangladesh as the founding lead of the Maternal and Child Health Training Institute and MCH Handbook program, which led to a UNFPA Fellowship from the United Nations, a Japanese Government Scholarship, and a JSPS Postdoctoral Fellowship. He holds an MBBS from the University of Dhaka, an MPH from Mahidol University, a PhD in Global Human Sciences from Osaka University, and an MBA in Global Healthcare Management from Ryerson University.
Specialties: Clinical Public Health Development, Urban Health, Global Health Management, MNCH-RH/FP, International Health Development/ Global Health Education and Research, Partnership Development, International Cooperation, Higher Educational Program Development, Program Operations and Management etc.
Honours & Awards
UNFPA Fellowship/MPH Study Award, Strengthening of MCH Program in Bangladesh
Monbushu Ph.D Study Award, Government of Japan, Ministry of Education, Science and  Technology, Japan
Japan Society for the Promotion of Science (JSPS) Fellowship, International Collaboration Division, Osaka University, Japan
Current Research Projects
Empowerment of women and their families seeking maternal, neonatal and child health services through a maternal and child health handbook for use in rural communities in Bangladesh
A Pilot Development of MCH Handbook in Bangladesh
The Utilization of MCH Handbook in Community Clinics (rural) and Hospitals (urban)
MCH Handbook: Impact Evaluation
HIV Prevention Collaborative Project in Bangladesh
Representative Publications
Ahmed S, Majumder S, Monia ZN, Bhuiyan SU. Assessment of Postnatal Mothers' Knowledge of Newborn Care Practices: A Cross-sectional Study. J Community Prev Med 2019; 2(1):1-6.
Bhuiyan, S., Linton, V., Stanizai, E., "Creating a roadmap for internationally trained medical doctors (ITMDs) to transition into non-licensed health sector employment: An evidence-based study identifying alternative career pathways. ITMDs Roadmap Study Summary Report, Ministry of Citizenship and Immigration, Govt. of Ontario 2018 March. https://ce-online.ryerson.ca/ce/content/program_area/itmds/roadmap_for_itmds_study_summary_report.pdf
Bhuiyan SU, Begum HA, Thiyagaratnam D, Al-Araji A, Saad W, Dehal N, Micheal M, Naeem F, Anwar M and Choudhury R. Community clinics and primary healthcare facilities utilization by reproductive age women in rural Bangladesh: a systematic review of lessons learned from evidence-based studies. J Pub Health Dev. 2018; 16 (3): 81-94.
Ahmed S, Majumder S, Monia ZN, Bhuiyan SU. Assessment of postnatal mothers' knowledge of newborn care practices: a cross sectional study. J Community Prev Med 2018; 1(2):1-6.
Wahida Kazi and Shafi Bhuiyan. "A Systematic Review on Interventions to Decrease the Rate of Needlestick Injury Associated Blood-Borne Diseases among the Healthcare Workers in the Low Resource Developing Countries". EC Emergency Medicine and Critical Care 2. 4 (2018): 97-109.
Bhuiyan, S., Begum, H., Tofighi, H., Pathan, S., Hassan, M., and Abdelmalek, M. (2018). "Sort, Assess, Life-Saving Interventions, Treat and Transport (SALT) Methodology and its Effect on Patient Outcome During Mass Casualty Incidents: A Systematic Review." Global Scientific Research Journal of Public Health Vol 1 (1):1-9.
Kazi W, Bhuiyan S. (2018) "A Systematic Review of the Literature on the Unsafe Injection Practices in the Health-Care Settings and the Associated Blood Borne Disease Trend: Experiences from Selected South Asian Countries." J Community Prev Med. 1(2):1-17.
Ahmed, S., Khan, N., Pulok, M., Majumder, and M., Bhuiyan, S. (2018). "Effects of Maltreatment during Childhood in Developing Mental Illness in Canadian Population." The 3rd Mental Health for All (MH4A) Conference, October 22-23, 2018, Canada.
Sharmin, M., Zannatul, N. M., Shamim, A., Shafi, U.B. (2018) "Knowledge attitude practice of essential newborn care among postnatal mothers." Journal of Health Research. 6 (1): 1-12.
Shafi U. Bhuiyan. Ryerson University's Internationally Trained Medical Doctors Bridging Program: Preliminary Results from a Pilot Program. Journal of Professional, Continuing, and Online Education (JPCOE), 2018. Vol 3.1: 1-10.
Bhuiyan S, Begum H, Deena, Ehsan S, Jamal Shah S, et al. (2017) Maternal and Child Health (MCH) Handbook and Its Effect on Maternal and Child Health Care: A Systematic Review and Meta-Analysis. J Community Med Public Health: CMPH-109. Vol. 2017, Issue 02.
Shafi Bhuiyan. [Technical Brief]: Piloting MCH Handbook for increasing women's knowledge on maternal and child health in Bangladesh. JICA Technical Brief, JICA, Sept. 2017.
Shafi Bhuiyan et al.  Maternal and child health handbook: Utilization and lessons learned from selected evidence-based studies. J Pub Health Dev. 2017: 15(2): 87-100.
Shafi Bhuiyan, Farah Tahsin. Maternal and Child Health in Bangladesh: Transitioning from MDGs to SDGs, International Journal of Current Research Vol. 9, Issue, 05, pp.49982-49993. May 2017.
Shafi Bhuiyan. Building the Capacity of Ontario's health care sector through the integration of internationally trained medical doctors (ITMDs): A preliminary result from a pilot bridging program at Ryerson University. Ted Rogers School of Management (TRSM), Ryerson (June 2016 Presentation).
Shafi Bhuiyan. MNCH Handbook in the World: Lessons Learned from Selected Evidence-Based Studies. (Nov 2016, Tokyo MCH Handbook 10th Conference Presentation)
Shafi Bhuiyan. A Handbook: The Global Impact of Maternal and Child Health. UN Special Magazine,     WHO. Vol. 749. P 14-15, May 2015
Shafi Bhuiyan, Nakamura Yasuhide, Usha George, Marie Bountrogianni, (October 2013). MCH handbook international collaboration: ensuring human security, women empowerment and continuity of MNCH care-experience from Japan (poster presentation). 20th Canadian Conference on International Health, Ottawa, Canada.
Tucker, R. and Rourke, S.B. , Greene, S., Bekele, T. Bhuiyan, S., and the Positive Spaces Healthy Places Team. Housing and Health Related Quality of Life among Persons Living with HIV/AIDS: Design and Implementation of the Positive Spaces, Healthy Places Study. AIDS and Behavior. (AIDS Behav (2012) 16:2361–2373 DOI 10.1007/s10461-012-0284-0Published Sept 2102.
Sean B. Rourke, Tsegaye Bekele, Ruthann Tucker, Saara Greene, Michael Sobota, Jay Koornstra, LaVerne Monette, Jean Bacon, Shafi Bhuiyan, Sergio Rueda, James Watson, Stephen W. Hwang, James Dunn, Keith Hambly. Housing Characteristics and their Influence on Health-Related Quality of Life in Persons Living with HIV in Ontario, Canada: Results from the Positive Spaces, Healthy Places Study. AIDS and Behavior, Nov. 2012, Volume 16, Issue 8: pp 2361-2373.
Shafi U. Bhuiyan. Nakamura Y., Continuity of Maternal, Neonatal and Child Health Care through MCH Handbook for Ensuring the Quality of Life. Child Research Net. http://www.childresearch.net/RESOURCE/RESEARCH/2009/BHUIYAN_NAKAMURA.HTM
Mayoh, M., Rourke, S.B., Tucker, R., Hogg, R., Kennedy, R., Chittock, B., Jones, J.E., Jose, M., Monteith, K., Klein, M., Anema, A., Fielden, S., Miewald, C., Bhuiyan, S., Rueda, S., Palmer, A. (November, 2010). Working Towards Harmonization Across Health Research Studies: "The Ontario HIV Health Study (Poster presentation). The OHTN 12th Annual Research Conference, Toronto, Ontario.
Monette, L. & Rourke, S.B. , Bhuiyan, S., and the Positive Spaces, Healthy Places Team. (2011). Inequalities in determinants of health among Aboriginal and Caucasian persons living with HIV/AIDS in Ontario: Results from the Positive Spaces, Healthy Places Study. Canadian Journal of Public Health, 102(3): 215-219.
Sok, P., Rourke, S.B., Seeman,M.V., Rueda, S., Bhuiyan, S., and the Positive Spaces, Healthy Places Team (November 2011). Gender Difference: Analyses of Risk Burdens Across Age in People Living with HIV/AIDS (Poster Presentation). The OHTN 13th Annual Research Conference, Toronto, Ontario.
Shafi U. Bhuiyan. Empowerment of Women in Islamic Society: Through Maternal and Child Health (MCH) Handbook in Bangladesh. Paper presented on the 7th International Conference on MCH handbook, Dhaka, Bangladesh 2010
Shafi U. Bhuiyan. Development, field testing and potential benefits of a Maternal and Child Health (MCH) Handbook in Bangladesh. Journal of International Health Development 2009 Vol. 24 No. 2
Bhuiyan Shafi., Nakamura Y. Improvement of maternal, neonatal and child health care services through MCH handbook in Bangladesh. Paper presented on the 6th International Conference on MCH handbook, Tokyo 2008
Hasan A., Chompikul J., Bhuiyan S.U. Patient Satisfaction with Maternal and Child Health Services among Mothers Attending the Maternal and Child Health Training Institute in Dhaka, Bangladesh. Journal of Public Health and Development 2007 Vol. 5 No. 3: 23-33
Labay E.M., Bhuiyan S.U., Hongkrailert N. Risk Factors Relating to the Diarrheal Disease Occurrence among under 5 Children at Samut Sakhon Province, Thailand. Journal of Public Health and Development 2007 Vol. 5 No. 3: 63-74
Md.Yunus, Jutatip S., Shafi U. Bhuiyan. Acceptance of Family Planning Methods among the Married Women of Reproductive Age at Methapukur Upazila, Bangladesh. Journal of Public Health and Development 2007 Vol. 5 No.1:53-62
Nguyen H. Thuong, Shafi U. Bhuiyan, Sutham N. Determinants Related to the Utilization of Voluntary Counselling and HIV Testing Service in Vietnam. Journal of Public Health and Development 2007 Vol. 5 No. 1: 63-75
Siswanto E., Bhuiyan S.U., Chompikul J. Knowledge and Perception of Pneumonia Disease among Mothers of Children under Five Years attending Nakhon Pathom General Hospital, Thailand. Journal of Public Health and Development 2007 Vol. 5 No. 2: 43-54
Shafi U. Bhuiyan, Nakamura Y., Nahid A. Qureshi. Study on the Development and Assessment of Maternal and Child Health (MCH) Handbook in Bangladesh.  Journal of Public Health and Development 2006 Vol. 4 No. 2: 45-60
Pandara V.E. Isaranurug S., Bhuiyan S.U. Utilization of MCH Handbook and Exclusive Breastfeeding Among Mothers of Children 6 to 12 months old in Manado, Indonesia. Journal of Public Health and Development 2006 Vol. 4 No. 3: 65-74
Bhuiyan Shafi, Nakamura Y. GO-NGO Partnership Challenges and Opportunities in the New Millennium: A case Study of Reproductive Health Initiative in Bangladesh. The Bulletin of Human Sciences 2004 Vol. 30: 209-220
Bhuiyan Shafi, Qureshi N. Health Information, education and communication needs: a case study of a health education workshop in a public maternity hospital in Bangladesh. Journal of Asian Women's Studies 2004 Vol. 13: 57-63
Bhuiyan Shafi. An Experience of Low Birth Weight Study: A Major Public Health Challenge in Bangladesh. 'Syn' The Bulletin of Volunteer Studies 2003 Vol.4: 59-72
Bhuiyan Shafi, Qureshi N. Skilled Birth Attendance and MCH Handbook: Unmet Challenges for Safe Delivery in Bangladesh. 'Syn' The Bulletin of Volunteer Studies 2002 Vol.3: 33-45
Bhuiyan Shafi. Public-Private Partnership Experiences in Bangladesh. The Journal of Japan Association for International Health 2002 Vol. 17 (Supplement): 89-89