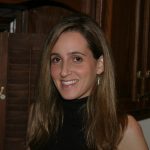 Faculty Member
Victoria Kirsh Ph.D.
Email Address(es)

Office Address

Dalla Lana School of Public Health University of Toronto 155 College Street, Toronto

Division(s)/Office

Position

Assistant Professor

SGS Status

Associate Member

Appointment Status

Contract
Research Interests
epidemiology of chronic diseases
case-control, cohort, and case-cohort studies
radiation exposure
nutritional epidemiology
dietary assessment
Education & Training History
Yale University, Ph.D. (Epidemiology), 2004
U.S. National Cancer Institute, Predoctoral Fellow , 2002 – 2004
University of Toronto, M.Sc. (Epidemiology), 1999
McGill University, B.Sc. (Microbiology and Immunology), 1995
Primary Teaching Responsibilities
 2017 Introduction to Quantitative Research (CHL5220), Primary Instructor and Course Director
2016-2017 Scientific Overviews (CHL5418), Faculty Tutor
2016-2017 Epidemiology Methods 1 (CHL 5401H), Co-Instructor
2016; 2008-2010; 2005-2006 Community Health Appraisal Methods (CHL5220), Instructor and Course Director
2012 – 2014 Advanced Quantitative Research Methods in Epidemiology (CHL5424), Course Director
2018; 2011 – 2013 Cancer Epidemiology (CHL 5409), Lecturer
Honours & Awards
Field Preceptor Award, for excellence in training/mentoring masters' students in the conduct and practice of epidemiological research. Department of Public Health Sciences, University of Toronto, 2006-2007 Academic Year
Manuscript, "Supplemental and dietary vitamin E, β-carotene, and vitamin C intakes and prostate cancer risk," was selected for the 2006 issue of the Annual Bibliography of Significant Advances in Dietary Supplements Research
National Cancer Institute Predoctoral Visiting Fellow Award, 2002-2004
National Institutes of Health Trainee Award, 2002-2003
Yale University Graduate School of Arts and Sciences Doctoral Fellowship, 1999-2003
Current Research Projects
Principal Investigator; The Canadian Study of Diet, Lifestyle and Health (CSDLH); a prospective cohort study that is assessing the association between dietary and lifestyle factors and the risk of cancer
Co-Investigaor; NCI Cohort Consortium and the Pooling Project of Prospective Studies (PI of the CSDLH, a contributing cohort). These consortia will address critical areas of cancer etiology research in which large-scale collaborations with sufficient data are needed.
Principal Investigator: Cancer risk following radiation exposure from Computed Tomography in adults, children and adolescents.
Representative Publications
Wentzensen N, Poole EM, Trabert B, White E, Arslan AA, Patel AV, Setiawan VW, Visvanathan K, Weiderpass E, Adami HO, Black A, Bernstein L, Brinton LA, Buring J, Butler LM, Chamosa S, Clendenen TV, Dossus L, Fortner R, Gapstur SM, Gaudet MM, Gram IT, Hartge P, Hoffman-Bolton J, Idahl A, Jones M, Kaaks R, Kirsh V, Koh WP, Lacey JV Jr, Lee IM, Lundin E, Merritt MA, Onland-Moret NC, Peters U, Poynter JN, Rinaldi S, Robien K, Rohan T, Sandler DP, Schairer C, Schouten LJ, Sjöholm LK, Sieri S, Swerdlow A, Tjonneland A, Travis R, Trichopoulou A, van den Brandt PA, Wilkens L, Wolk A, Yang HP, Zeleniuch-Jacquotte A, Tworoger SS. Ovarian Cancer Risk Factors by Histologic Subtype: An Analysis From the Ovarian Cancer Cohort Consortium. J Clin Oncol. 2016 Jun 20.
Kitahara CM, McCullough ML, Franceschi S, Rinaldi S, Wolk A, Neta G, Olov Adami H, Anderson K, Andreotti G, Beane Freeman LE, Bernstein L, Buring JE, Clavel-Chapelon F, De Roo LA, Gao YT, Gaziano JM, Giles GG, Håkansson N, Horn-Ross PL, Kirsh VA, Linet MS, MacInnis RJ, Orsini N, Park Y, Patel AV, Purdue MP, Riboli E, Robien K, Rohan T, Sandler DP, Schairer C, Schneider AB, Sesso HD, Shu XO, Singh PN, van den Brandt PA, Ward E, Weiderpass E, White E, Xiang YB, Zeleniuch-Jacquotte A, Zheng W, Hartge P, de González AB. Anthropometric Factors and Thyroid Cancer Risk by Histological Subtype: Pooled Analysis of 22 Prospective Studies. Thyroid. 2016 Feb;26(2):306-18.
Pole JD, Gu LY, Kirsh V, Greenberg ML, Nathan PC. Subsequent Malignant Neoplasms in a Population-Based Cohort of Pediatric Cancer Patients: A Focus on the First 5 Years. Cancer Epidemiol Biomarkers Prev. 2015 Oct;24(10):1585-92.
McGlynn N, Kirsh VA, Cotterchio M, Harris MA, Nadalin V, Kreiger N. Shift work and obesity among Canadian women: A cross-sectional study using a novel exposure assessment tool.  PLoS One. 2015 Sep 16;10(9):e0137561. doi: 10.1371/journal.pone.0137561. eCollection 2015
Catsburg C, Kim RS, Kirsh VA, Soskolne CL, Kreiger N, Rohan TE. Dietary patterns and breast cancer risk: a study in 2 cohorts. Am J Clin Nutr, 2015 Apr;101:817-823. PMID: 25833979 
Catsburg C, Kirsh VA, Soskolne C, Kreiger N, Rohan TE. Active cigarette smoking and the risk of breast cancer: a cohort study. Cancer Epidemiol, 2014 Aug;38:376-381. PMID: 24929357
Grundy A, Cotterchio M, Kirsh VA, Kreiger N. Associations between anxiety, depression, antidepressant medication, obesity and weight gain among Canadian women. PLoS One, 2014 June 16;9(6):e99780. PMID: 24932472
Catsburg C, Kirsh VA, Soskolne CL, Kreiger N, Bruce E, Ho T, Leatherdale ST, Rohan TE. Associations between anthropometric characteristics, physical activity, and breast cancer risk in a Canadian cohort. Breast Cancer Res Treat, 2014 Jun;145:545-552. PMID: 24781974
Barisic A, Kreiger N, Leatherdale S, Faulkner G, Kirsh V, Arbour-Nicitopoulos K. The influence of an initial face-to-face meeting in an e-mail delivered physical activity intervention: a single-blind, randomized controlled trial. American Journal of Health Studies, 2014; 29(1):155-164.
Boucher BA, Cotterchio M, Anderson LN, Kreiger N, Kirsh VA, Thompson LU. Use of isoflavone supplements is associated with reduced postmenopausal breast cancer risk. Int J Cancer, 2013; 132:1439-1450.
Boucher BA, Cotterchio M, Curca IA, Kreiger N, Harris SA, Kirsh VA, Goodwin PJ. Intake of phytoestrogen foods and supplements among women recently diagnosed with breast cancer in Ontario, Canada. Nutr Cancer, 2012; 64(5):695-703.
Shebl FM, Sakoda LC, Black A, Koshiol J, Andriole GL, Grubb R, Church TR, Chia D, Zhou C, Chu LW, Huang WY, Peters U, Kirsh VA, Chatterjee N, Lietzmann MF, Hayes RB, Hsing AW. Aspirin but not ibuprofen use is associated with reduced risk of prostate cancer: a PLCO study. Br J Cancer, 2012; 107:207-214.
Anderson LN, Cotterchio M, Kirsh VA, Knight JA. Ultraviolet sunlight exposure during adolescence and adulthood and breast cancer risk: a population-based case-control study among Ontario women. Am J Epidemiol, 2011; 174(3):293-304.
Agalliu I, Rohan T, Kirsh V, Soskolne C, Kreiger N. Oxidative Balance Score and Risk of Prostate Cancer: Results from a Case-Cohort Study. Cancer Epidemiol, 2011; 35:353-361.
van Lonkhuijzen L, Kirsh V, Kreiger N, Rohan T. Endometrial cancer and meat consumption: A case-cohort study. Eur J Cancer Prev, 2011; 20:334-339.
Kirsh VA, Chiarelli AM, Edwards SA, O'Malley FP, Shumak RS, Yaffe MJ, Boyd NF. Tumor characteristics associated with mammographic detection of breast cancer in the Ontario breast screening program. J Natl Cancer Inst, 2011; 103:942-950.
Mayne ST, Cartmel B, Kirsh V, Goodwin WJ Jr. Alcohol and tobacco use prediagnosis and postdiagnosis, and survival in a cohort of patients with early stage cancers of the oral cavity, pharynx, and larynx. Cancer Epidemiol Biomarkers Prev, 2009; 18:3368-3374.
Kirsh VA, Kreiger N, Cotterchio M, Sloan M, Theis B. Nonsteroidal antiinflammatory drug use and breast cancer risk: subgroup findings. Am J Epidemiol, 2007; 166:709-716.
Kirsh VA, Peters U, Mayne ST, Subar AF, Chatterjee N, Johnson CC, Hayes RB; Prostate, Lung, Colorectal and Ovarian Cancer Screening Trial. Prospective study of fruit and vegetable intake and risk of prostate cancer. J Natl Cancer Inst, 2007; 99:1200-1209.