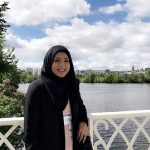 Featured Student
Amnah Awan
When and where did you complete your practicum?
I completed my first practicum as a MPH Epidemiology student with the Public Health Agency of Canada (PHAC) from May to August, 2017. I was part of the Surveillance and Epidemiology Division (SED) and specifically the HIV/AIDS and TB Surveillance Section (HATS).
What are your academic/research interests?
I have a variety of academic/research interests, which include infectious disease epidemiology, cancer and mental health. These interests developed through courses that I completed during my Masters program as well as research areas that I worked in as an undergraduate Health Sciences and Psychology student. I am particularly interested in how infections can lead to the development of cancer as well as the etiology of mental disorders in our society.
What were your primary responsibilities at your agency?
During my time with PHAC, one of the main priorities of the HIV/AIDS team was to submit two manuscripts – one on HIV and one on AIDS. As a practicum student, I was involved in the majority of the steps in preparing these manuscripts. Specifically, I contributed to the literature reviews for both manuscripts, assisted in data checks for national surveillance data validation, assisted with the preparation of tables and figures for both manuscripts using Microsoft Excel, and drafted the manuscripts. I also worked on an independent project on HIV in the Indigenous population of Canada.
What types of projects did you participate in and what deliverables were you expected to produce?
This year, the HIV/AIDS team took a different direction as they shifted from publishing the traditional lengthy surveillance report on the PHAC website to publishing two manuscripts in the Canadian Communicable Diseases Report (CCDR). Hence, two of my main deliverables were drafting these manuscripts. Additionally, the Indigenous project consisted of developing and revising a robust and comprehensive analysis plan. This was followed by a thorough examination of the surveillance data available for the analysis and the production of an internal report for the team.
What was most rewarding about your practicum experience?
I think the most rewarding thing about my practicum experience was being able to work on multiple projects, each with its own challenges. I was able to gain multiple skills such as communicating surveillance reports in a timely manner through manuscript preparation, enhancing public health related skills in conducting literature reviews, data collection and collation, data analysis and report writing, further enhancing my software skills, and gaining insight into the federal governments role in public health and the federal/provincial/territorial relationship.
What advice would you offer a prospective student who is considering an opportunity at your practicum site?
Be optimistic and informed! Learn about the Agency, its missions and mandate. Learn about the division/team that you are applying to as well as the interviewers. Lastly, show enthusiasm, willingness to learn and curiosity.
What was the most valuable lesson you learned during your practicum experience?
My experience with PHAC went above and beyond what I expected. In addition to being exposed to the skillsets involved in practicing public health, I learned of the challenges that accompany surveillance and infectious disease data, as well as the importance of teamwork and work-life balance. I also gained insight into the federal government's role in public health and the importance of communication with PHACs stakeholders in order to form a healthy federal/provincial/territorial relationship in public health. These are all valuable lessons that I learned during my practicum with PHAC.