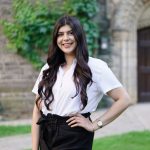 Featured Student
Emin Nawaz
What's your program and specialty/subject matter of focus?
I am a Masters of Public Health Student, majoring in Health Promotion. I am entering my second year of studies.                          
Why did you choose to join the PHSA? And why are you suited for your position?
Ever since I can remember, I have always been extremely passionate about getting involved in the community and within my school. I found so much value in learning outside of the classroom, through various extracurricular and volunteering activities. I have always attended schools which greatly valued student life both academically and socially, therefore I knew I didn't want to give up that experience at Dalla Lana. I joined the PHSA Executive Team as Communications Chairs, and absolutely loved being able to act as a liaison between first year PHS students and faculty and to help enhance student life. I knew I wanted to take my involvement further and am honoured to act as President for the PHSA in the next year. I hope to use the skills I've gained overtime to continue fostering a sense of community at DLSPH, and act as a representative for the student body, along with the rest of the PHSA!
Tell us about a challenge that you've had to overcome during your time at the School. As a master's student, you will often be surrounded by numerous deadlines and transitions. I have been challenged at times to want to have every next step planned out. I feel like in every 'big' phase of my life (like transitioning from Undergrad to Master's) I've put a lot of stress on myself about what's coming next. It inevitably takes a lot away from the moment, and you're left not enjoying where you are. Remember that where you are right now, is exactly where you dreamed of being a couple years ago. In life, you will consistently be working hard for the next thing, but you have to appreciate how far you've gotten and celebrate the achievements in that moment. This part of your life at DLSPH will fly by, so really enjoy it, and push yourself to pursue your passions (whether academic or not) and have fun!