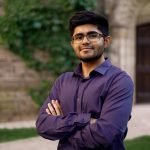 Featured Student
Smit Mistry
What's your program and specialty/subject matter of focus?    
I am a Masters of Public Health Student, majoring in Health Promotion. I am entering my second year of studies.
Why did you choose to join the PHSA? And why are you suited for your position?
I chose to be on the PHSA this year for purposes of taking on an active role in the planning of school activities and events. I accepted the treasurer position because it suits my skills and because I enjoy working with numbers.
What would you say to a prospective student who is starting at the school?
Once piece of advice I'd give to incoming students would be to not stress over your grades, but instead focus your energy on your personal and academic growth. Additionally, it would be beneficial to involve yourself as much as you can. Attend conferences and events to broaden your professional network.