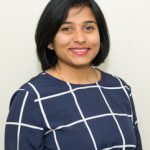 Featured Student
Sujata Mishra
PhD in Health Economics: Institute of Health Policy Management and Evaluation
Why did you choose to join the Collaborative Specialization in Global Health (CSGH)?
My PhD research has a substantial global health component. I therefore thought that it was important for me to learn and broaden my understanding of various facets of global health allowing me to optimally situate my research in a global context.
What is your favourite aspect of the CSGH? 
The multi-disciplinary nature of global health is fascinating. My favourite aspect of the CSGH is that it is a unifying platform that brings students interested in a wide range of topics including but not limited to politics, policy making, epidemiology, demography, economics or anthropology. And so one gets to learn from their unique research approaches and perspectives.
How has the CSGH impacted your education/future goals?
Enrolment into the CSGH program has allowed me to broaden my understanding and applicability of global health in general and more specifically for my PhD research. It has also helped me in position myself as a researcher as well as my research in a global context. Interacting with students in the program has opened up avenues for new areas of potential collaboration which I will like to pursue going forward.
What have you learned about global health that you would like to share with prospective students?
Global health is very interdisciplinary.