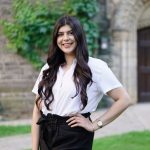 Featured Student
Emin Nawaz
What's your program and specialty/subject matter of focus?
I am a Masters of Public Health Student, majoring in Health Promotion. I am entering my second year of studies.                          
Why did you choose to join the PHSA? And why are you suited for your position?
Ever since I can remember, I have always been extremely passionate about getting involved in the community and within my school. I found so much value in learning outside of the classroom, through various extracurricular and volunteering activities. I have always attended schools which greatly valued student life both academically and socially, therefore I knew I didn't want to give up that experience at Dalla Lana. I joined the PHSA Executive Team as Communications Chairs, and absolutely loved being able to act as a liaison between first year PHS students and faculty and to help enhance student life. I knew I wanted to take my involvement further and am honoured to act as President for the PHSA in the next year. I hope to use the skills I've gained overtime to continue fostering a sense of community at DLSPH, and act as a representative for the student body, along with the rest of the PHSA!
Tell us about a challenge that you've had to overcome during your time at the School.
As a master's student, you will often be surrounded by numerous deadlines and transitions. I have been challenged at times to want to have every next step planned out. I feel like in every 'big' phase of my life (like transitioning from Undergrad to Master's) I've put a lot of stress on myself about what's coming next. It inevitably takes a lot away from the moment, and you're left not enjoying where you are. Remember that where you are right now, is exactly where you dreamed of being a couple years ago. In life, you will consistently be working hard for the next thing, but you have to appreciate how far you've gotten and celebrate the achievements in that moment. This part of your life at DLSPH will fly by, so really enjoy it, and push yourself to pursue your passions (whether academic or not) and have fun!
Why did you choose to join the Collaborative Specialization in Global Health (CSGH)?
Throughout my undergraduate degree, I was very passionate about understanding the intersection of global health both within and outside of healthcare. I was intrigued to learn more about the origins of GH, different key stakeholders within the discipline, and how I could apply a GH lens in the work I do at both a local and international scale.
What is your favourite aspect of the CSGH?
My favourite aspect of the CSGH has been the global health community created at Dalla Lana. Within the CSGH, you get the opportunity to meet students from different faculties, while also learning from the wide range of experiences of fellow public health students. The CSGH community is extremely well-connected to relevant institutions and organizations that are leaders within global health, with professors that are very passionate about helping students gain meaningful experience in the field.
How has the CSGH impacted your education/future goals?
Through the CSGH, I have been able to holistically understand the role global health plays not only within the discipline of public health, but beyond. I was able to gain hands on experience working with faculty conducting global health research and foster meaningful relationships through my first practicum. The wide range of seminars, networking events, courses, and mentorship offered has allowed me to better understand where I fit into the field of global health and what work I want to contribute towards.
What have you learned about global health that you would like to share with prospective students?
Global Health is an extremely large field, with a growing-list of health issues that can become overwhelming to address. However, you get to learn and work alongside motivated, passionate, and intelligent individuals and organizations that are working towards solutions-based ideas to advance the field. As the field is extremely interdisciplinary, you get to work with leaders in business, medicine, law, public health, environmental health, and more, to collectively come together and make a difference. While challenging at times, I have come to learn and appreciate what a rewarding field it is.