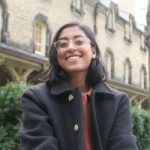 Featured Student
Menaka Shanmuganantha
When and where did you complete your practicum?
I completed my first practicum this past summer (May to August 2017) in the City of Toronto's Social Development Finance and Administration (SDFA) division. SDFA identifies and responds to community social needs, undertaking social planning and trend analysis and developing social policy responses
What are your academic/research interests?
Lately, I've been especially interested in population health intervention research. Evidence-based population health approaches have always been fascinating to me since they tend to be upstream interventions that have the capacity to reduce health disparities and positively improve the health and well-being of an entire population. I am also very interested in using quantitative and qualitative research to inform evidence based policy and practise.
What were your primary responsibilities at your agency?
I conducted applied research to inform the development of a grant program focused on advancing the Toronto Youth Equity Strategy (TYES). The TYES is aimed at promoting resiliency among youth most vulnerable to involvement in serious crime and violence in Toronto.
What types of projects did you participate in and what deliverables were you expected to produce?
My main deliverable involved the completion of a literature review examining approaches most effective at promoting mental health literacy and skills building among marginalized youth and their families. The review was unconventional because in addition to an analysis of the academic and grey literature, it also incorporated themes from key informant interviews. I presented a high level overview of my findings as well as key recommendations to my team members. I also supported the project management of other grant programs in the division and completed other research documents as needed.
What was most rewarding about your practicum experience?
Being able to interview over 18 stakeholders: this was my first time conducting qualitative research interviews outside of an academic setting and I learned a lot about this method of data collection. It was also really rewarding being able to use my research findings to help shape how the division allocated its funds towards increasing the mental health literacy of marginalized youth and their families (which remains a relatively understudied area of mental health research and service provision).
What advice would you offer a prospective student who is considering an opportunity at your practicum site?
Make sure you set goals for yourself at the beginning of the practicum and hold yourself accountable to them-I think this is particularly important for work terms like mine that involved a lot of independent work. Also there is so much that goes on at the City of Toronto, make sure to ask your supervisor about and take advantage of all of the professional development opportunities!
What was the most valuable lesson you learned during your practicum experience?
The importance of reflexivity in the qualitative research process and in using clear communication to ensure you are on the same page as your team members and the stakeholders you interact with (it sounds simple but I feel like it's really easy in larger groups for things to be interpreted differently).