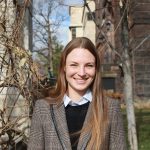 Featured Student
Sarah Buchan
What's your program and specialty/subject matter of focus?    
I am a PhD candidate in Epidemiology, with a focus on studying influenza and other respiratory viruses in young children.
Why are you studying public health/health policy?
I've always been interested in studying health at the population level as it affords opportunities to see patterns and affect change on a broader scale. My focus has been on studying vaccine-preventable diseases with an applied focus to help contribute to improving public health.
Why did you choose to study at the Dalla Lana School of Public Health?
My main motivation to study at DLPSH was in the opportunities provided through the school and its extensive network. The opportunity to collaborate with a wide variety of public health organizations, academic centres, hospitals, and knowledge users that are affiliated with the university was so unique and so appealing, and really aligns with my interest in applied public health research.
What are some current projects or research that you're involved in?
I've recently finished a study that estimated how effective influenza vaccines are at preventing laboratory-confirmed influenza hospitalizations in children. This work was part of my dissertation and involved extensive collaborations across the province. My experience with this project has led to some ongoing work looking at comparing influenza vaccine effectiveness (VE) by vaccine type, as well as an international collaboration led by the CDC to look at influenza VE in pregnant women.
Tell us about a challenge that you've had to overcome during your time at the School.
I think many of us are interested in a wide variety of topics, which are accessible through the school, but sometimes it can be a challenge to stay focused on the task at hand when there are other things as students we'd like to learn! Within our community, there are many opportunities to collaborate with people who have unique sets of skills, so growing these networks will contribute to life-long learning.
What's the best part of being a DLSPH student?
The atmosphere at the school – everyone here, student and staff alike, are so invested in this dynamic field and the work being done by fellow colleagues. The opportunities afforded to the students here make it a great place to grow as a public health researcher.
What's the one thing people can do to improve public health?
To remain aware, curious, and engaged. There are always merits to learning something new and meeting people beyond your field of interest. Having a broad horizon and understanding as many perspectives as possible can help us do better, be more creative, and produce more impactful work.