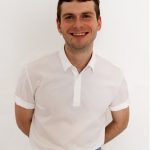 Featured Student
Joseph Friedman Burley
When and where did you complete your practicum?
I completed my Summer 2019 practicum at the Women's College Research Institute (WCRI), Women's College Hospital, under the supervision of Dr. Janice Du Mont.
What are your academic/research interests?
LGBTQ2S+ Health, Community Development, Inclusive and Equitable Public Health Policy
What are your career goals, and did your practicum experience change them in any way?
My goals are to continue working towards LGBTQ2S+ health equity through community advocacy and inclusive public health policy development. This practicum experience increased my knowledge of existing supports for transgender (trans) survivors of sexual violence across Ontario and enhanced my capacity to facilitate and maintain intersectoral relationships and networks. If anything, this experience reinforced my desire to continue working in service to my community.
What were your primary responsibilities at your agency?
This summer, I worked alongside Dr. Du Mont on the SSHRC-funded trans-LINK Project: Building an Intersectoral Network on Trans-Affirming Practice for Survivors of Sexual Assault. My primary responsibility was the co-design, coordination, and co-facilitation of seven regional knowledge mobilization and community engagement sessions meetings held across Ontario. Other responsibilities included community outreach, qualitative data analysis, survey design, and preparation of knowledge translation products (meeting briefs, posters, presentations, manuscripts) using meeting data.
What was most rewarding about your practicum experience?
The most rewarding aspect of my practicum experience was the opportunity to travel around the province and connect with service providers working across sectors to provide better services for trans survivors. It was so inspiring to see these communities of practice coming together to address such a pressing public health issue.
What advice would you offer a prospective student who is considering an opportunity with your practicum site?
Lots of people consider skills-building over the topic areas when selecting a practicum. My advice is to choose a practicum that inspires and motivates you. Such inspiration is abounding at Women's College, a hospital that brings an explicit gender-equity lens to clinical and public health research and practice. If you are considering an opportunity at WCRI, pursue it!
What was the most valuable lesson you learned during your practicum experience?
I learned to expand my vision beyond Toronto. Those of us who live and practice in the city tend to adopt a myopic view of community and public health, but there is so much potential to learn from other passionate service providers, researchers, and communities across the province! It's so important to consider their needs and valuable experiences in the design of interventions.