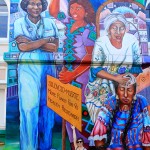 Featured Student
Lesley Tarasoff
What's your program and specialty/subject matter of focus?
I am a PhD Candidate in the Social and Behavioural Health Sciences Division. Broadly, my area of focus is women's health. I participate in the Collaborative Graduate Program in Women's Health as well as the CIHR Strategic Training Program Health Care, Technology and Place.
Why are you studying public health/health policy?
I am studying public health because I am interested in improving the health care experiences and outcomes of marginalized groups of women. While access to sexual, reproductive, and perinatal/maternal health care services is generally a non-issue for Canadian women and outcomes are fairly positive, there are some groups of women whose needs are often overlooked and who encounter barriers to care, such as women with disabilities and sexual minority women. Not paying attention to the unique needs of these populations may lead to poor care experiences and outcomes.
Why did you choose to study at the Dalla Lana School of Public Health/Institute of Health Policy, Management and Evaluation, University of Toronto?
I chose to study at the DLSPH – particularly the SBHS Division – because of its emphasis on social theory, equity, critical qualitative research, and the opportunity to work with number of faculty members who specialize in women's health, like Lori Ross and Gillian Einstein. There are some real rock stars among the SBHS Division faculty!
What are some current projects or research that you're involved in?
Currently, I am working on my dissertation study, a qualitative study exploring how women with physical or mobility-limiting disabilities in Ontario experience the transition to motherhood .
With my colleagues on the Re:searching for LGBTQ Health team, I am working on a project about bisexual people's positive and negative identity experiences.
I am also working on a study examining meanings of community and community participation among people with serious mental health issues.
What would you say to a prospective student who is considering the School?
Participate in a collaborative program – doing so will provide you with opportunities to engage with and possibly collaborate with students and faculty with similar interests across the School and the University as whole.
What's the one thing people can do to improve public health or health care locally and/or globally?
Consider the context of people's lives. Consider social determinants of health. The reasons why some groups of people don't access health care services or have poor outcomes are not always in their control. There are many things that prevent certain groups of people from accessing health care services, such as poverty and previous poor experiences with health care providers (i.e., discrimination).