HIV researcher receives $75K grant from Elton John AIDS Foundation
January 25/2016
Dan Allman received a $75,000 grant from the Elton John AIDS Foundation in support of his work to prevent HIV infection among Canadian sex workers.
"The Elton John Foundation doesn't typically fund universities, but they found our project to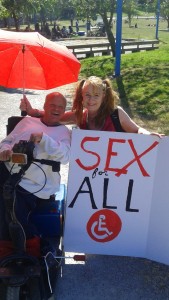 be particularly compelling and community-oriented," said Allman, an Assistant Professor in the Dalla Lana School of Public Health's Social and Behavioural Health Sciences Division.
PrEP in the context of sex work: Possibilities and limitations is the first grant ever awarded by the Elton John AIDS Foundation for a national project with sex-worker organizations to address pre-exposure prophylaxis (PrEP) in the sex industry workplace. Recent research suggests PrEP is a way for people who do not have HIV, but who are at substantial risk of getting it, to prevent HIV infection by taking a pill every day.
PrEP is a quickly evolving form of HIV prevention that utilizes biomedical tools to prevent the infection and transmission of HIV. This project is unique because it fully integrates sex workers into its collaborative activities in a meaningful way.
"A distinguishing factor is the degree of involvement sex workers will have in this work. They are equal partners in the direction and management of the project," Allman said, who is also Director of the School's HIV Studies Unit.
British Columbia's Triple-X Workers' Solidarity Association is the primary partner that Allman and his team will work with to promote wellness through empowerment, advocacy and provision of health and social services.
"I am thrilled and grateful that the Foundation has awarded us this grant so that sex worker groups from across Canada can continue to discuss this important development in HIV prevention," says Andrew Sorfleet, Triple-X Workers' Solidarity Association President.
Community engagement is crucial to prevent HIV infection and transmission. The Dalla Lana School of Public Health is a leader in meaningfully engaging at-risk communities in their research and health promotion activities. Engaging sex workers and organizations that support them is a next step.
"It's crucial that sex workers are engaged in local and national dialogue to help ensure that any efforts to roll-out and scale-up PrEP activities in the context of sex work are centered in the community and informed by a range of community voices, including those on the front lines," said Allman.
Sexually transmitted infections and diseases, including HIV, are an occupational hazard for this group, but despite their marginalized status, in Canada sex workers have demonstrated resiliency and avoided high HIV infection rates that can be seen in other populations, such as injecting drug users and gay men.
"As one of the world's leading non-profit organizations supporting HIV prevention and stigma reduction programs… the Foundation is proud to partner with [the] HIV Studies Unit, Dalla Lana School of Public Health and we deeply appreciate your courage and commitment to the field of work," wrote Scott Campbell, the Elton John Foundation Executive Director, in his letter to Allman.
This spring, Allman and colleagues will attend the 25th Annual Canadian Conference on HIV/AIDS Research, where they will learn more about PrEP in the context of sex work, and plan next steps in preparation for a national consultation on the issue to be hosted at the Dalla Lana School of Public Health in October 2016.
Photo: Patrick Clark (left) with Triple-X director, Anna Smith at the reception following the 3rd Annual Red Umbrella March for Sex Work Solidarity in Vancouver, June 13, 2015. Photo courtesy of Anna Smith.