Public Health Alumni Association's Annual General Meeting
February 2/2016
On November 24, 2015, the Public Health Alumni Association (PHAA) hosted its Annual General Meeting (AGM).
Cameron Norman, PHAA Board President and Adjunct Lecturer at the School, discussed PHAA's mentorship program that connects talented public health students with thriving alumni who are giving back to the school and making an impact on public health.  Laura White received special recognition for her dedication and commitment to the Mentorship Program, which has made it the successful program it is today.
Dr. Jeffrey Reading, former Interim Director of the Waakebiness-Bryce Institute for Indigenous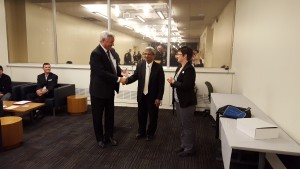 Health, received the 2015 C.P. Shah Alumni Award of Excellence for his contributions to the advancement of Indigenous health. Dr. C.P. Shah, who has known Dr. Reading for 20 years, presented the award to Professor Reading.
Julie Foisy, Practicum Placement and External Relations Officer who is also a DLSPH alumnae, was recognized for her incredible dedication to the PHAA both through her role at the School and PHAA Board membership.
Beth Miller and Monica Bienefeld also received special recognition for their time and contributions to rejuvenating the PHAA.  Beth and Monica will be stepping down from the PHAA.
The PHAA Board welcomed its newest appointments, including: Lauren Della Mora as School Affairs Officer; Ramlogan Sowamber as New Alumni Officer; Akanksha Ganguly as a Member at Large.
The PHAA will continue its leadership of the Mentorship Program and plans to expand the program to allow for alumni-alumni mentorship. PHAA will also continue its successful student award program.
The PHAA Board would like to hear from alumni about these and other initiatives that will support PHAA's active role the School.  Please contact public.health@alumni.utoronto.ca with your ideas.