Making the case for supervised injection services
June 17/2016
Five years after Associate Professor Carol Strike and Professor Ahmed Bayoumi said that Toronto would benefit from opening at least three supervised drug injection sites, their research is now influencing public health leaders and policy-makers to make safe-injection services available in the city.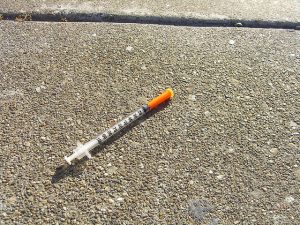 "We've been saying for a long time that Toronto needs these services. Now the timing and political climate are right and we are thrilled that supervised drug injection sites are on the table at city hall," said Strike, Associate Professor in DLSPH's Division of Social and Behavioural Health Sciences.
In March 2016, the Toronto Board of Health voted to start community consultations towards integrating supervised injection services (SIS) into three existing community health facilities. Five former Toronto mayors and Toronto's Medical Officer of Health, Dr. David McKeown, have endorsed the plan and public discussion is supportive.
More than 90 SIS operate globally, most within eight European countries, one in Australia, and two in Vancouver, Canada. SIS are legally sanctioned spaces where people can inject illegal drugs, typically heroin or cocaine, under the supervision of trained health staff and without fear of prosecution. These services allow for safer injection, are associated with fewer overdoses, facilitate referrals for drug treatment and benefit public order.
"Our study projected that supervised injection facilities would prevent HIV and hepatitis C infections and result in meaningful health benefits for people who use drugs," said Strike, referring to the April 2012 report she co-authored with Bayoumi, a clinician-scientist at St. Michael's Hospital and Professor in the Institute of Health Policy, Management and Evaluation.
Political opposition from the conservative federal and municipal governments were a major roadblock since an exemption from federal drug laws is needed to operate a SIS in Canada.
One year after the study's publication, the number of overdose deaths in Toronto climbed to an all-time high of 206 in 2013, prompting McKeown, an Assistant Professor in DLSPH's Division of Clinical Public Health, to declare the growing trend of heroin and fentanyl use a "significant public health issue."
In an invited commentary published in The Lancet on May 7, 2016, Bayoumi and Strike explain what's changed and why they've finally had success influencing policy in Toronto.
"The case for SIS required a confluence of factors —local champions, support from government, a clear narrative linked to overdose rates, a willingness to engage opponents and attention to local contexts —to create sufficient buy-in from relevant stakeholders to place SIS on the policy agenda."
As a result of their research, analyses and the work of community activists, Strike and Bayoumi created a dialogue about SIS in Toronto and now their recommendations are being considered by policy-makers.
Photo by Eric Molina via Flickr.