Indigenous researchers receive $2.6 million grant for Indigenous Maternal and Child Health Program
May 25/2017
A unique Indigenous-led, community-hospital-university-private sector partnership to enhance Indigenous maternal and child health will address some of the underlying causes of health inequity through an innovative new action-research project.
The "Kind Faces Sharing Places: An Action Research Project for Indigenous Families During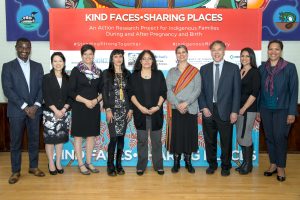 and After Pregnancy and Birth" project will aim to address some of the social determinants of health and break the multi-generational impacts of family disruption in Toronto. This project is supported by a $2.6 million grant from Merck Canada Inc. through its Merck for Mothers program, a 10-year, $500-million initiative with a focus on improving the health and well-being of mothers during pregnancy and childbirth.
"We must break the unacceptable cycle of Indigenous family disruption using Indigenous values and practice to deliver family and community-centred, culturally-appropriate care to Indigenous families," said Janet Smylie, Associate Professor at DLSPH, and Director of the Well Living House Action Research Centre for Indigenous Infant, Child and Family Health and Wellbeing at St. Michael's Hospital.
Smylie and a team of Indigenous researchers and community partners from the University of Toronto's Waakebiness-Bryce Institute for Indigenous Health, Well Living House, Seventh Generation Midwives Toronto and Nishnawbe Homes will lead the project. The team will draw on the success of the Australian Stronger Families Program, which supports Indigenous families in Brisbane to keep children safely at home and cope with challenges.
Despite a growing recognition that the lack of culturally appropriate services, racism and traumatic housing environments negatively impact Indigenous people's health, the rate of Indigenous infants taken from their mothers at birth is at an all-time high with dozens of Indigenous infants apprehended every year in Toronto. Indigenous infants are also two to four times more likely to die at birth compared to non-Indigenous infants.
"This partnership will leverage Indigenous knowledge and research methods to improve outcomes and create solutions that close the gap in maternal and child health between Indigenous and non-Indigenous families," said Associate Professor Suzanne Stewart, Director of the Waakebiness-Bryce Institute for Indigenous Health.
The research team will recruit 100 mothers and their families to take part in the three-year study where they will receive care from an interdisciplinary team led by Indigenous midwife Sara Wolfe at Seventh Generation Midwives Toronto.  Participants will be connected to mental health care providers, social service agencies and child protection organizations, as needed. They will also have access to housing transition support, traditional counselling and healing, individual and family therapy, treatment for addictions if needed, and support to navigate Toronto's vast number of maternal health programs and services.
"Maternal health and well-being is a critically important issue that Merck has dedicated itself to improving, in association with many partners equally committed to the cause," said Mr. Chirfi Guindo, President and Managing Director of Merck Canada Inc.
"Working alongside some of Ontario's top Indigenous health and research leaders, this new project marks an important step towards reaching our ultimate goal of improving maternal health and providing culturally-secure care for Indigenous families, both on a global scale and right here at home in Toronto."
Project evaluation will compare results at one, two and three years into the study to baseline measurements of the number of infant apprehensions, the proportion of mothers accessing adequate prenatal care; maternal outcomes; and how many families have reduced the complexity of their needs.