Dr. France Gagnon named Associate Dean of Research
May 30/2017
Dr. France Gagnon, Canada Research Chair in Genetic Epidemiology and Associate Professor of Epidemiology, is DLSPH's new Associate Dean of Research as of June 1, 2017.
"I am delighted to welcome France to the Faculty's leadership team in this important role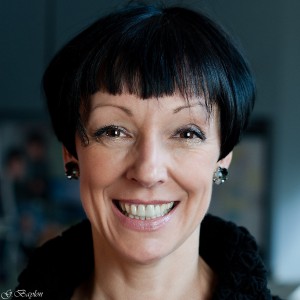 where she will further our diverse research portfolio of innovative population studies, prevention strategies, policy transformation, and more," said Howard Hu, Dean of the Dalla Lana School of Public Health.
Dr. Gagnon is an expert in the field of genetic and epigenetic epidemiology and her research program aims to improve patient care and population health through a better understanding of human biology in a population-wide context. Her research is highly collaborative and focuses on cardiovascular disease using novel statistical technologies, while integrating wet-lab findings and clinical data into mathematical models of diseases.
She spearheaded the CIHR STAGE (Strategic Training for Advanced Genetic Epidemiology) training program in 2010, the first of its kind in Canada. She continues to co-lead the program while building community and capacity in statistical and epidemiological genetics. Under her leadership, the team has mentored more than 35 PhD and post-doctoral trainees.
"In my new role, I wish to impact the success of the DLSPH by helping my colleagues reach their individual research goals, and by identifying opportunities — and shepherding to success — large team projects that would reflect the diversity of our collective talents," said Dr. Gagnon.
"I feel passionate about the importance of nurturing and integrating all types of knowledge to improve population health and health systems. With its strengths in qualitative and quantitative methodologies and theoretical expertise, and strong partnerships with key stakeholders, the DLSPH community is uniquely placed to meet current and future health challenges locally and globally," said Dr. Gagnon.
As Associate Dean of Research, Dr. Gagnon will be responsible for enhancing the Faculty's research culture through international recognition and entrepreneurship. She will lead the Office of Research Development and Support Services and launch a new Faculty-wide research committee that will explore new funding and practice models, new policies around research overhead recovery, and new research grant and contract opportunities.
Dr. Gagnon has served in leadership positions on national and international steering and advisory committees, including President of the International Genetic Epidemiology Society in 2015, and she has been a reviews editor for Human Genetics since 2007. She has received several research and teaching awards, including: CIHR New Investigator Award, U of T Faculty of Medicine Graduate Teaching Award for Early Career Excellence and the Anthony Miller Award for Excellence in Research in Public Health Sciences.