U of T Offers Groundbreaking Training in Diplomacy for Public Health Professionals
May 28/2020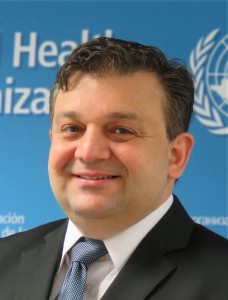 The race to create effective COVID-19 prevention and treatments illustrates the need for broader skills
Diplomacy is both art and science – and public health professionals increasingly need to understand each of its intricate disciplines in order to create positive change in the world. That's the guiding principle behind Canada's first course in global health diplomacy.
"There's a lot of competition for ideas on the geopolitical stage," says course co-founder and Assoc. Prof. Erica Di Ruggiero, director of the Centre for Global Health at the Dalla Lana School of Public Health. "How do you get an idea on the agenda so that it sticks? There are some very overt strategies to negotiate, persuade or influence. But the course is also about having a better understanding of the different players and their roles, and how to reach them."
The Executive Course on Global Health Diplomacy is the newly minted Centre's signature offering – part of DLSPH's expansion into the global health sphere. It will be offered online in partnership with the Office of International Affairs for the Health Portfolio (Government of Canada) and the Graduate Institute of Geneva from November 2020 to May 2021, and in-person June 7 to 9. It's aimed at mid-career public health professionals who want to influence policy at the World Health Organization and other major world bodies. But its architects also hope to attract diplomats-in-training with an interest in health policy.
"If you look at the Canadian approach, you either have people with technical knowledge of health or you have people with overall policy skills," says course co-founder Dr. Garry Aslanyan (pictured), a Geneva-based adjunct professor at DLSPH. "And then you have the diplomats in the Canadian missions in Geneva or New York who understand that nothing is black and white when it comes to negotiating on the world stage."
Training public health providers to understand the sensitivities and the political realities faced by diplomats or finance and trade ministers will help them give better, more successful advice to those officials, Aslanyan says.
Over many years working for NGOs, multilateral organizations and governments, Aslanyan often decried the opportunities lost when trade or aid deals were negotiated by people with no understanding of their ripple effects on public health.
Vaccines are a prime example, says Aslanyan. Sometimes, a deal is struck by G7 finance ministers to buy vaccines for low-income countries if pharmaceutical companies agree to make them. What follows is a complex dance of negotiations to ensure the right diseases are targeted, the best vaccines are created at affordable prices and in sufficient quantities — and trade benefits are distributed evenly. A health official in the Canadian government or an NGO who is able to understand and work with the many factors at play will be more successful in shaping a deal that benefits public health. A similar drama is playing out now on the world stage as governments negotiate production of  COVID-19 vaccines – a likely case study in the diplomacy course, Aslanyan says.
The course will delve into many real-world case studies. They'll "learn that negotiations around something like vaccine financing is actually contingent on many other factors that are not health related," says Aslanyan. "You would need to understand how these seven countries work to make a deal while keeping that health goal in mind."
The course will also cover diplomacy from an ethical and governance framework, with lectures by DLSPH professors Ross Upshur and Jillian Kohler, who also serves as Director of the WHO Collaborating Centre for Governance, Transparency and Accountability in the Pharmaceutical Sector.
Reflecting a key ambition of the Centre for Global Health, the course will serve as a hub for scholars, students and alumni to meet, collaborate and share ideas. Course directors are particularly enthusiastic to enlist current and recently retired Canadian diplomats to serve as mentors to students. They are grateful for the efforts of the Centre's Manager, Ophelia Michaelides in getting the course to the launch stage.
To learn more about the course, visit the Centre for Global Health's website.