Podcast Dissects Cities' Future through Sustainable Development Goals
March 16/2021
By Ayesha Shakeel, Communications Assistant and third-year undergraduate student in Global Health and Immunology
A new podcast unpacks the UN's Sustainable Development Goals and outlines how U of T faculty and students' research are helping to achieve them.
The Centre for Global Health's Healthy Cities in the SDG Era Podcast, hosted by Dalla Lana Prof. Erica Di Ruggiero and cohost Ophelia Michaelides, brings listeners into an in-depth dialogue about healthier cities of the future through SDG.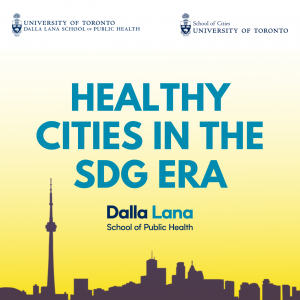 "In light of covid-19, the SDGs are relevant now more than ever to all countries including Canada. But many remain unaware of them and their potential to shape research, teaching, policy and community engagement efforts," says Di Ruggiero who released their fourth episode of Sustainable Cities and Communities.
Podcast discussions range from research and policy topics related to good health and well-being to sustainable cities and communities. Episodes have tackled topics such as inequality reduction, global health diplomacy, gender equality, poverty, hunger, indigenous peoples and climate action.
The podcast also explores ongoing efforts in research, pedagogy, and community leadership at the University in the context of Canada's progress towards the SDGs. It examines academic institutions' role in mobilizing global collaboration. SDGs are not without faults, Di Ruggiero acknowledges.
"They are silent on racism and fail to call out the colonial structures that enacted them. While gender equality is identified, there are calls to go beyond the sex/gender binary. These and other issues are critical to address in implementation if we are to redress systemic inequities," says Di Ruggiero.
The podcast also enables listeners to be the change they want to see. Each guest delivers knowledge and actionable steps that listeners can take to make their unique contributions towards achieving one or more of the SDGs.
"In doing this podcast, I continue to learn that there is no one way to approach an issue. It has allowed me to reflect more deeply on how our local and global histories shape public conversations around our past, present, and future ambitions – such as the SDGs. It is about hearing the stories from people in our communities that are making change at all levels. How can we draw inspiration from and allow others to inform our own contributions to building back better." says podcast co-host Michaelides.
Working remotely has allowed hosts to reach thought leaders in our communities and around the world in ways that would have not been possible otherwise, adds Michaelides.
The podcast is made with the support of the School of Cities at the University of Toronto. The first three episodes live here.