Kuan Liu: The Power of Data in Public Health
December 20/2021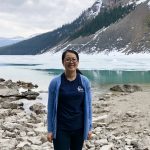 Kuan Liu is a recent PhD in Biostatistics graduate. She is passionate about the role of biostatistics in clinical and public health research and the potential for using accessible data to inform public health efforts and promote public health measures during the COVID-19 pandemic.
"As public health students, I think we have this shared responsibility to go beyond our research focus and use our platform to advocate for public health," she says.
MPH student Kelly Ge spoke with Kuan about personal and public perspectives on research and public health data during the pandemic.
What was your experience studying and working on your research during the pandemic?
It's been challenging. I am away from home completing my PhD study. The most difficult part for me is feeling isolated and less motivated because I am not in a training environment where I can constantly chat about research and stay connected with peers. The mental and emotional support that I received before the pandemic, in an in-person setting, was wonderful. I missed that part. I was very grateful that my supervisor, Dr. Eleanor Pullenayegum, checked up on me regularly and making sure that I am not only on track with my thesis work, but also felt heard and supported.
Another thing that helped me was that a few of us, created a Team Biostatistics study group and we would do virtual study sessions and message each other daily to keep the communication and the peer support alive.
What would you tell a prospective student?
Work on professional development. For us, in biostatistics especially, we can dive directly into thesis research, and near the end of our study, realize that we lack some experience and professional training in collaborative research, teaching, and services (for example, student body services, conference/workshop organizations, etc.). These experiences and training can be essential in landing your dream job in both academia and industry. I would encourage students to get to know people in your cohort across divisions from the start and actively seek opportunities to participate in case study competitions and data challenges that involve students from other disciplines. Working closely with peers to complete a project can boost your collaboration skills in communication and teamwork. It's also a great way to learn about other disciplines and build a strong bond and relationship with other students who will be your future colleagues and collaborators with down the road.
How has the pandemic changed your view of public health?
Last year, a group of us completed a descriptive analysis and created a shiny dashboard on case and testing rate using the open-access data from the COVID-19 Canada Open Data Working Group, led by Isha Berry and Jean-Paul R. Soucy, two brilliant epidemiology PhD students at DLSPH. It opened my eyes because my research had mostly used private clinical data that is not open access where the analysis and results can be easily reproduced and shared timely. I have since started to document and gather other open-access data that are useful for my biostatistics method research and can address important public health questions. It was also amazing to follow the work from other students, like Isha and Jean-Paul, and see their efforts in supporting the pandemic research. I was so inspired and proud to be a member of the DLSPH community.